Introduction 
Rapid changes in competition, customer demand, emerging technology, and regulations have made it mission-critical than ever for organizations to be able to respond and adapt quickly to change imperatives. Within a challenging economy 'agility' in the workplace, represents the corporate commitment and ability to rapidly identify and adapt to business market and environmental changes in a highly-productive and cost-effective manner.
In today's business environment, organizational agility is no longer a luxury, but a necessity!
The Agile Organization is an extension of this concept, referring to an organization that uses key principles of complex adaptive systems and complexity science to achieve market success and long-term viability!. One can say that business agility is the outcome of organizational intelligence!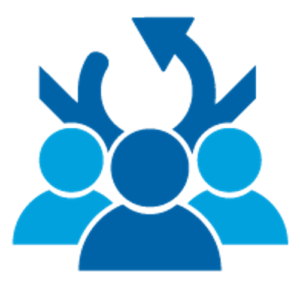 Agility demands two critical proficiencies for a successful deployment:
Dynamic capability, ability to move fast, nimbleness, and responsiveness.
The stable corporate framework that doesn't change while other organizational mechanisms are continually changing.
Agile-focused organizations are more likely to realize positive digital transformations by systematically changing and refreshing business models and strategic capabilities in measured phases, over time with proactive executive leadership and employee commitment. This approach empowers organizations to deploy, evaluate, learn, and redo digital transformation initiatives, quickly reacting to changing market conditions and customer needs.
The key Agile Organization goal is to make change a routine component of corporate life and reduce or eliminate the organizational trauma that typically paralyzes many businesses attempting to adjust and adapt to new markets and business and technology trends and directions. Since change is perpetual, the Agile Organization is able to quickly change and leverage and exploit emerging opportunities.
"The message is clear: Senior leaders must get out of their silos and work with each other more. To navigate today's constantly changing business environment and address cross-disciplinary challenges, a company's top leaders must act as one."
Agile Organizations: Characteristics
Agility is about looking holistically across the employee universe, business processes, structure, strategy, and technology and streamlining the bureaucracy and layers of hierarchy to react quickly and improve tactical and strategic decision-making.
Embracing formal and executive team-supported agility throughout the enterprise can help organizations quickly adjust to continual customer demands, create attractive cultures for their employees, and position themselves to fend off growing competitors in targeted markets.
The generally-accepted characteristics of an Agile Organization are as follows:
Accept failure as a real learning opportunity.
Commitment to catalyst leadership style.
Embrace passionate, confident and self-aware employees.
Endorse knowledge-learning and building mindset.
Exhibit strong corporate purpose.
Facilitate continuous learning and experimentation.
Absence of business unit silo structures, governance, and reporting.
Open communication with collaboration and sharing.
Quick decision-making at decision points.
Support alignment among business models, corporate mission, and vision, strategic initiatives, and goals.
Support governance with flexibility based on actual circumstances and conditions.
"Success today requires the agility and drive to constantly rethink, reinvigorate, react, and reinvent."
The Traditional Bureaucracy
There are several important differences between the Agile Organization and the traditional bureaucratic organization structure and approach. The most prominent is the Agile Organization's use of fluid role definitions that support dynamic decision-making structures. Unlike the rigid hierarchies characterizing traditional bureaucracies, structures within Agile Organizations are more likely to fluidly adapt to changing business conditions into structures that support the current direction and any emergent opportunity.
Agile Organizations do not generally follow the concept of sustained competitive advantage that typifies the average business bureaucratic organization. Operating in hyper-competitive, continuously changing markets, Agile Organizations pursue a series of temporary competitive advantages—capitalizing for a time on the strength of an idea, product, or service then readily discarding it when no longer viable.
The Agile Organization is typically populated with employees pursuing 'serial incompetence' that work hard to obtain and maintain proficiency in a wide array of multi-disciplined business and support activities. The objective is to have a well-rounded cadre of executives, managers, and employees with experience in many areas and empowered to make quick and well-informed decisions at the appropriate decision points. There are typically no "Subject-Matter Experts" (SMEs) focusing on one topical or functional area, as found typically in a traditional business bureaucracy.
92% of executives believe that organizational agility is critical to business success.
27% of executives surveyed considered themselves highly agile.
31% of organizations that qualify themselves as highly agile have increased earnings before interest, taxes, depreciation and amortization 20% or more.
Digital Transformation
Successful Digital Transformation is not viewed as a bottom-up approach! Long-term value-add transformation programs demands a top-down focus with committed and proactive executive involvement, creation and articulation of an innovative transformation vision and strategy, alignment with enterprise business model and strategies, investment of top-level leadership and skilled and experienced resources, and use of a business intelligence facility to continually monitor and measure progress and make real-time adjustments, as required.
Today, to remain successful and viable, organizations must upskill their workforce to be digitally agile.  PwC's Digital IQ® Survey reports an array of obstacles facing executives in their quest for successful digital transformation, as outlined below.
  lack skilled teams.
  have slow or inflexible processes.
  lack new data and technology integration.
  use outdated or obsolete technology.
Bain & Company's Digital Transformation: A Roadmap reports:

Agile Organization Benefits
Agility does more than allow companies to adapt. It makes them adaptable and proactively nimble as part of their corporate culture. Agile adopted organizations focus on the ability and capacity to quickly identify and understand threats, risks, and opportunities and design and implement changes, both incremental and discontinuously, as well as the ability to verify the contribution of execution to performance.
The benefits generally realized from successful agility programs encompass:
Higher customer satisfaction and retention.
Improved competitive advantage.
Improved employee productivity and retention.
Mitigated business and financial risk.
Quickly act on new business opportunities.
Streamlined business processing; reduced costs.
Superior decision-making.
"Whenever an individual or a business decides that success has been attained, progress stops."