Introduction 
Today, the velocity of Information generated within the private and public-sectors is unparalleled and directly challenging the ability for successful content and records handling with traditional business and technology strategies. We are now all witnesses to a definitive paradigm shift as business models, and digital technology conventions and expectations are in a continual state of flux and present operational and compliance misalignments for most organizations.
This rising disruption of how workers handle and process information, in all formats, is a real and strategic threat to the capability of organizations to remain viable in a very competitive market effectively and efficiently serving both consumers and citizens.
In February 2018, AIIM conducted a Survey to quantify what organizations thought of "Intelligent Information Management (IIM)," how they see the relationship between IIM and Digital Transformation, and where they are on both their Digital Transformation journeys and their plans for the underlying technologies that fuel core IIM practices and methodologies.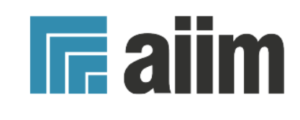 Key highlights of the AIIM 2018 Survey that are relevant to the original information paradigm shift cover the below:
Rising Information Chaos
Despite significant improvements in information management capabilities over the past ten years, organizations have only marginally kept pace with the new wave of "Big Content" challenges.
Progress is the result of managing specific types of information – except when it comes to scanned documents; perhaps a reflection of growing multi-channel challenges.
The average number of content systems in use continues to rise; the average number of operations has grown by nearly 30% over the past five years.
Little has changed over the past decade in the tightrope act that organizations feel they must walk between supporting the business and protecting the business.
While most organizations continue to increase the number of content systems they use, a rising portion of critical business content (now 54%) remains OUTSIDE those content management systems.
Demand for New Approaches
In just three years, we've moved beyond the cloud "tipping point." Even for organizations that were initially skeptical, for 8 in 10 organizations, cloud capabilities are now a vital part of the solution.
For 70% of organizations, the monolithic model characteristic of the ECM era has evolved by a desire to consume content capabilities as needed – i.e., content services.
Pricing and purchase models are changing dramatically from CAPEX to OPEX – 57% of organizations prefer subscription pricing models.
92% of organizations believe that something needs to improve and that they must modernize their information management strategy.
"You have to imagine a world in which there's this abundance of data, with all of these connected devices generating tons and tons of data. And you're able to reason over the data with new computer science and make your product and service better. What does your business look like then? That's the question every CEO should be asking."
Additional survey information is available at the AIIM Web Site.