Over the last ten years, we have witnessed, a significant growth in the number of smart devices, wireless products, and embedded sensors connected and integrated with commercial and organizational networks supporting enhanced provision of real-time services to the B2B and B2C marketplaces. Current industry trends suggest a continual growth of new innovative and highly-monetized and digital services and billions of new customers accessing and proactively using the digital ecosystem. The connections will comprise phones and tablets, home appliances, commercial and manufacturing machinery, and public-sector equipment and services.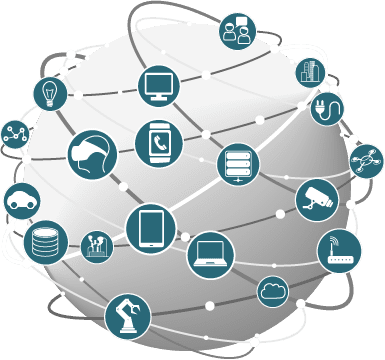 To meet the projected huge influx of new digital services and users, highly-scalable, flexible, interoperable, energy-efficient, and secure network architectures and technical frameworks will need to be improved or newly created by the leading technology and Cloud providers. The key outcome and benefit is provision of cost-effective services to small and medium businesses and local municipalities for set-up and management of personalized digital services, for consumers and citizens, within an Internet of Things (IoT) approach.
IoT: Definition 
The rapid development of information and communications technologies has resulted in creation of the Internet of Things (IoT).
In recent years, IoT has emerged as a revolutionary paradigm, in which a continuum of devices and objects are interconnected with an array of communication solutions. As the 'things' become more intelligent and capable of locomotion IoT will evolve into smart networks of advanced forms of machine intelligence with he ability to possess a degree of autonomy.
The high-value potential of IoT to business is not the ability to connect and integrate digital objects or embedded technologies and electronics but rather the capability to leverage insights from data, automate, digitalize, optimize and, transform business processes and business models within a digital transformation approach. IoT is also about the array of processes and technologies (big data, analytics, cloud, edge computing or fog computing, IoT platform software, IoT gateways etc.) integrated together to provide the required data outputs.
Market research reveals that the IoT will consist of about 30 billion objects by 2020. That's approximately four devices for every human being on the planet.
Two technical advances are shaping and driving IoT include to success include:
Mobile technology, including mobile devices and widespread availability of wireless connectivity.
Rapidly falling price of sensors. For example, in the early to mid – 1990s, a solid-state sensor cost $20 to $25 and by the end of the decade, it was at a $5 level.
IoT: Value 
Gartner research recently predicted that the aggregated value and economic benefit of the IoT will exceed $1.9 trillion in 2020. Additionally, McKinsey & Company identified six key values that support the successful adoption of IoT:
Enhanced situational awareness.
Immediate control and response in complex autonomous systems.
Optimized resource utilization.
Business and support process optimization
Sensor-driven decision analytics strategic  and tactical.
Tracking human behavior and outcomes.
IoT: Examples 
An example of a practical IoT use that is much in the news is the development of autonomous ("driverless") motor vehicles. The World Health Organization (WHO) has put the annual number of auto-related deaths worldwide at well over one million. Most of these deaths result from human error. IoT technology, particularly the increased use of safety-focused sensors in automobiles, has the potential to dramatically reduce motor-vehicle associated accidents and fatalities when embedded in autonomous cars and other types of vehicles.
A second example is in the manufacturing sector where IoT is improving the safety of  employees with wearable technology equipped with embedded sensors. This application mitigates unsafe conditions in the workplace. For example – detecting toxic gasses or over-exertion etc.. IoT devices placed purposely throughout even the most complex supply chain locations provides  real-time insight into workplace problems before they are physically identified or activated.
Conclusion
Superior performance in the digital age requires adaptable technology infrastructure that can successfully manages the complexities of IoT frameworks, multi-cloud environments, embedded security and compliance policies, and deep business alignment. Best-in-class businesses and governmental agencies are successfully redesigning their information technology activities focusing on the six core guidelines below:
Breakdown boundaries across IT stacks.
Embrace user-friendly solutions and tools.
Glean insights from data.
Include policy engines.
Support open source.
Utilize DevOps.
The immediate future work environment will be made up of both humans and intelligent things. Success will depend largely on organization's understanding and leveraging the strengths and weaknesses of human cognition and machine intelligent to command and control new infrastructure, process and governance forms.