Software development projects, after much investment, employee effort, and time frequently fail to deliver planned outcomes and benefits! The consensus among academia and management gurus is that the failure rate of software projects is in 50%-80% range. Projects that fail, or only somewhat deliver on their financial and commercial objectives can adversely affect corporate productivity and profitability. The ability to objectively assess the health of a project becomes even more problematic as projects increase in scope, magnitude, and technical complexity.
Very often, those employees intimate with a project struggle in seeing the 'forest-for-the-trees' with their focus on the mountains of project minutiae. Thus, project managers may commonly lose perspective with an unbalanced investment of time and effort with tactical details versus an incessant strategic focus on meeting customer-focused requirements and quickly identifying and resolving project problems and risks.
It is a well-accepted business truism that the cost of fixing or repairing a technical obstacle or blockage is much greater than the cost of preventing or avoiding the incidence beforehand. Impending business and technical problems can also go unnoticed because project managers historically operate with a 'slow and steady wins the race' mentality. The confidence that everything, within the project, will be copasetic if you just stick to the plan is a false one, as effective project plans should be viewed as organic that change as required to support risk mitigation and successful project delivery.
Conducting periodic independent formalized health checks on projects has shown to be a beneficial tool to ensure current project success as well as discovering 'lessons learned' to common problems and applying them within organizational project management / project management office (PMO) polices and processes to support future projects.
Best-in-Class organizations use Software Project Health Checks, as a strategic assessment tool, that quickly identifies a project's current and projected progress against the baseline, at a chosen time. It recognizes what has been successfully completed, as well as uncovering where the project's performance may be at risk for failure. The deliverable is an objective assessment of s project's current status and its prospects of achieving the planned business and technology deliverables.
"Good business leaders create a vision, articulate the vision, passionately own the vision, and relentlessly drive it to completion."
Project Health Checks: Definition
The purpose of a project health check is to obtain an independent assessment, at any point of time during the project life cycle, of how well a project is performing in accordance with approved objectives and how well it adheres to the methodology's best practices. A successful health check will quickly provide access to immediate findings that can be used by the project manager during planning and project execution. It provides opportunities to expand on what is going well, and make changes where necessary, increasing the likelihood of success due to earlier detection of problems and risks and optimization opportunities.
Standish Group 2015 Chaos Report
The Standish CHAOS Reports, since 1994 has surveyed the state of the global software development industry.Their 2015 report studied and reports on about 50,000 projects conducted of all sized projects and within all major industry sectors. An important report statistic group is the Modern Resolution for all Projects that presents the percentages of projects classified as Successful, Challenged, and Failed as shown below.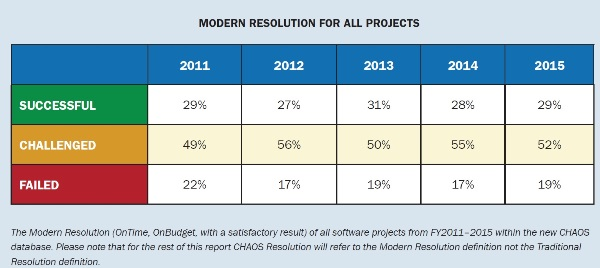 Technology-based Business Challenges
Today significant market shifts are driving organizations to reassess their ability to meet current and future competitive technology-based business challenges. These disruptions are creating opportunities for executives to leverage and exploit customer-focused enterprise technology assets to support more innovative products and services and increased employee productivity. Key technology-based business challenges drivers include:
Emerging technologies.
Digital transformation & advancement.
Changing buying behaviors and patterns.
High customer demands.
Changing employee population workforce.
Disruptive organizations.
 "Any idiot can point out a problem … A leader is willing to do something about it! Leaders solve problems!" 
PMI Pulse of the Profession Survey
Within the PMI Pulse of the Profession (9th Global Project Management Survey 2017) PMI identifies two classes of project users:
CHAMPIONS: Organizations with 80 % + of projects completed on time, on budget, meeting original goals and business intent, and having high benefits realization maturity.
UNDER PERFORMERS: Organizations with 60 % or fewer projects completed on time, on budget, meeting original goals and business intent, and having low benefits realization maturity.
Key survey finds of Champions and Under Performers are shown in the below graphic.
Unhealthy Projects Symptoms
An unhealthy project will typically exhibit many symptoms that are generally visible to experienced executives, professionals, and project managers. Indicators of projects heading into the red risk zone can typically be categorized under people, process or technology.
A list of unhealthy project symptoms follows:
Governance & Project Control
Nonexistence of project charter and supporting business case.
Undefined or weak project success criteria.
Insufficient financial budget.
No project key performance indicators (KPIs).
Lack of executive initial buy-in and continual proactive support and engagement.
Incessant poor decision-making on project problem and risk resolution.

Communication breakdown among stakeholders, pulling project team in multiple directions.

Ineffective leadership and communication by project manager.

Conflict in culture among business units.
Project Planning
Under-detailed technical specifications.
Inadequate project scoping.
Unsuitable technical approach.
Flawed software development estimation.
Incomplete & deficient project documentation.
Lack of (or inconsistent use of) project management methodology and processes.
PM / PMO Policy & Processes
Ignore or dilute PM / PMO policy and processes.
Lack of daily project plan updates.
Poor project life cycle KPI monitoring and evaluation.
Absence of regular business case updates.
Lack of periodic project status reports and review meetings.
Nonexistence of formal change management control and process.

Breakdown in communication among stakeholders, pulling project team in multiple directions.
Resources Management
Absence of Project Manger with experience for: business activities, project size, location and geography complexity, and technical knowledge & skills etc.
No formal project team member role and responsibility assignment
Lack of essential business and technical resources
High project resources turnover
Project Schedule / Timeframes
No schedule milestone deliverables and due dates.
Excessive tasks unassigned as TBD.
Slippage without association with underlining problem or risk register with change plans.
Continual scope creep without documented analysis and executive approval.
Misaligned business production deadline and project schedule end date.
Software Development
Inappropriate technical approach.
Use of complex technology without appropriate experienced technical resources.
Incomplete testing plan and poorly developed test scripts.
No due diligence conducted on technology suppliers / vendors.
Nonexistent or incomplete formal user acceptance test (UAT) exercises.
Project Definition of Success
All projects should create a 'Definition of Success' in the project planning stage. An example of generic success factors includes projects:
Complete on time.
Complete within approved budget.
Complete within agreed scope and approach.
Meet agreed technical requirements.
Meet agreed business requirements.
Comply with PM / PMO policies and processes.
Provide required level of project quality.
Provide high-level project reporting and timely communications.
Accept by customer owner / stakeholders within a formal User Acceptance Test (UAT).
Project Health Checks: Components
The typical components of Project Health Check encompass:
Executive Support
Project Management
Scope Management
Time Management
Cost Management
Quality Management
People Management
Communication Management
Risk Management
Procurement Management
PM / PMO Lessons Learned
Project Management Institute (PMI) Project Management Body of Knowledge (PMBOK) describes lessons learned as the knowledge and insights obtained from the process of performing project activities. Formal lessons learned sessions, with all project team participants, are usually conducted during the project close-out phase. Though, lessons learned may be also be collected at any point during the project's life cycle including Project Health Checks.
Lessons learned typically consists of the policies, procedures, and processes viewed as essential for ensuring the successful delivery of projects within PMI and PM / PMO guidelines and recognized best practices. Utilization and assimilation of lessons learned includes distribution to appropriate stakeholders, identification of activities that will be taken as a result of the lesson learned, and follow-up initiatives to ensure successful integration with enterprise PM / PMO policies, procedures, and processes.
The objectives of documenting project management lessons learned is to share and use knowledge derived from experience to:
Encourage continual repetition of desirable (effective and efficient) project outcomes.
Prevent recurrence of future undesirable project outcomes.
Project Health Checks: Benefits
The benefits generally realized with use of a formalized Project Health Check correlates directly to traditional project success factors of: On time delivery, within budget, and deliverable outcomes that meet approved business and technical requirements.
An extension of the traditional success factor, realized with use of Project Health Checks include:
Confirm project rationale, as documented in Project Charter and Business Case, is still relevant and clearly understood.
Uncover current or future project problems or risks.
Detect subtle and tacit symptoms which, if missed, could evolve into project down stream problems and / or risks.
Improve project knowledge and status that may not be routinely uncovered.
Provide assurance that PM / PMO policies and processes are being used correctly in supporting project success.
Fix or repair current and potential problems and risks uncovered.
Generate Project Clean Health Statement or Project Repair & Change Plan Statement.
Identify and document PM and PMO 'Lessons Learned' to improve future project management and processing.