Thank You for Your Confidence in Knowledge Compass Capabilities
Thank you for considering Knowledge Compass for assistance for your current or near-term project. We look forward to providing all the information about our business and technology competencies, experiences, and skills for you and your colleagues to make an informed decision on engaging Knowledge Compass.
Please click the below icon to access the Consulting Services Quote Request Form. The Knowledge Compass Team will review, analyze your request and reachout to you if we require additional information or clarification.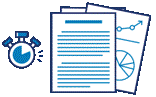 We will be provide a detailed response and recommended next steps within 12 hours of our receipt of your submission.