Introduction 
Software Asset Management (SAM) is a business approach, practice, and toolset that supports the effective and efficient management of an organization's purchase, deployment, maintenance, utilization, and disposal of software applications. The SAM approach fuses internal processes and oversight with digital systems to drive real benefits across the organization. The key to SAM's value is the use of an ongoing method to manage the current, repeatable procedures used by the corporate business and support units to define product versions and terms and conditions of use, identify legal ownership with verifiable records to confirm authorized roles and users.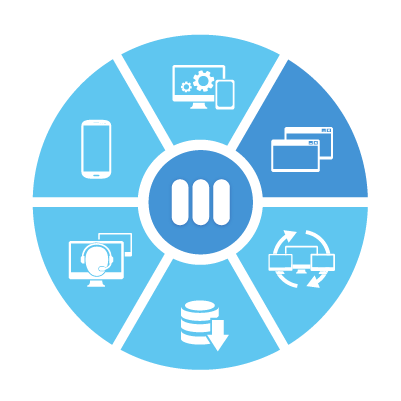 There is an array of industry definitions from industry governing bodies and product vendors for SAM, with a selection outlined below:
ITIL
Formally an acronym for Information Technology Infrastructure Library is a set of detailed practices for IT service management (ITSM) that focuses on aligning IT services with the needs of the business. In its current form (ITIL 2011), ITIL is a series of five core volumes, each of which covers a different ITSM lifecycle stage. Although ITIL underpins ISO/IEC 20000 (previously BS 15000), the International Service Management Standard for IT service management, there are some differences between the ISO 20000 standard and the ITIL framework.
Software Asset Management (SAM) is all of the infrastructure and processes necessary for the effective management, control, and protection of the software assets within an organization throughout all stages of their lifecycle.
Microsoft Corporation
Software Asset Management (SAM) is a best practice incorporating a set of proven processes and procedures for managing and optimizing your organization's IT assets. Implementing SAM protects your software investments and helps you recognize what you have, where it's running, and if your organization is using your assets efficiently.
IAITAM
The International Association of Information Technology Asset Managers, Inc. ("IAITAM") the professional association for individuals and organizations involved in IT Asset Management ("ITAM"), Software Asset Management ("SAM"), Hardware Asset Management, and the lifecycle processes supporting IT Asset Management in organizations of every size and industry across the globe.
The practice of integrating people, processes, and technology to allow software licenses and usage to be systematically tracked, evaluated and managed. The goal of Software Asset Management is to reduce IT expenditures, human resource overhead, and compliance risks that are inherent in owning and managing software assets.
Primarily intended to be part of an organization's information technology business strategy, the goals of SAM are focused on reducing information technology (IT) costs and limiting business and legal risk exposures associated with the ownership and use of software, while improving IT responsiveness and end-user productivity.
SAM is a mission-critical strategy for businesses in supporting the distribution of licenses and managing the legal framework connected with software ownership and expiration. SAM tools track license expiration, thus allowing the company to function ethically and within software compliance regulations. It can also be crucial for significantly reducing or eliminating litigation costs associated with license agreement violations and as part of a company's brand/reputation management strategy. Both are essential forms of risk management and critical for a company's long-term business strategies success.
Intelligent SAM Tools
Intelligent SAM tools are corporate assets if the organization is a participant in a volume licensing program and optimizes how perpetual and subscription-based licenses are purchased and managed. SAM provides a federated view of raw software asset data, and additionally, some SAM products have intelligence capable of flagging specific criteria related to software licensing and application lifecycle management (ALM). The flagging activity allows for the proactive identification of circumstances that can be used to reduce costs; for example, the software may flag incidents in which licensing and support fees have the potential for combination.
Software Asset Management is a required policy within corporate technology environments with an array of tools including:
Application Control
Restrict what and by whom software can operate on a computer as a means of avoiding security and other risks.
License Manager
Provide a repository for license entitlements for reconciliation against data provided by (software inventory) tools to support an 'Effective License Position' or view of where the organization is under-licensed (at risk of a compliance audit) or over-licensed (wasting money on unnecessary software purchases).
Patch Management
Automate deployment of software patches to ensure organizational computers are up-to-date and meet appropriate security and efficiency standards and policies.
Product Catalog
Capture product specific data including name, edition, version and license agreement types and other critical top-level information for products used within the business. This material normalizes product naming conventions and allows mapping between different tools.
Request Management
Empower employees to request software products using a standardized and centralized process specially designed to capture and assess specific license requirements and manage and track the procurement and deployment process.
Software Deployment
Automate and regulate the deployment of new software within the corporate environment.
Software Inventory
Intelligently "discover" software installed across system network and collect software file information including, title, product ID, size, date, path, and version.
Software Metering
Monitor utilization of software applications across company networks and provide real-time enforcement of compliance for applications licensed based on end-user usage.
SAM Industry Standards
Three ISO standards provide guidance and support for software asset management activities as outlined below:
ISO/IEC 19770-1 – a framework of ITAM processes to enable an organization to prove that it is performing software asset management to a standard sufficient to satisfy corporate governance requirements and ensure active support for IT service management overall.
ISO/IEC 19770-2:2015 – establishes specifications for tagging software to optimize its identification and management. This part of ISO/IEC 19770 applies to the following. a) Tag producers: these organizations and tools create software identification (SWID) tags for use by others in the market.
ISO/IEC 19770-3:2016 – establishes a set of terms and definitions used when discussing software entitlements (an essential part of software licenses). It also provides specifications for a transport format that enables the digital encapsulation of software entitlements, including associated metrics and their management.
SAM Benefits
The key benefits associated with successful implementation and ongoing formalized management and oversite are as follows:
Improve Financial Security
The complexities of managing software assets, within an organization, make the managing costs a big challenge that can leave executives feeling financially vulnerable. Implementing a formal SAM strategy and approach should realize cost reductions with standardization throughout the software life cycle. Thus, corporate SAM decision-makers can secure the information needed to choose the most cost-effective licensing programs, provide better IT forecasting for budgeting activities, and receive tax benefits associated with software depreciation.
Extend Liability Control
A successful SAM strategy and approach helps prevent financial penalties and legal costs by ensuring that software licenses are compliant and avoid potential damage to the company brand/reputation that could arise from litigation. SAM helps achieve compliance with government regulations that require strict standards of IT governance and controls.
Compliant Corporate Governance
Effective corporate governance includes two necessary steps: (1) identifying the risks facing the business and (2) controlling and mitigating the identified threats before they can have an impact. SAM helps identify business and compliance risks associated with software management and establish a set of well-structured best practices that help safeguard consistent management of these assets throughout the organization.
Improve Employee Satisfaction
A successful SAM provides employees the right tools they need to accomplish their assigned work routines. Straightforward software and IT systems that function as they should generally result in increased productivity and better overall employee morale.
Improved Operations Environment
SAM provides better automation and standardizing processes that help reduce complexity and optimize software and IT resources. It provides an extra layer of security and efficiency for IT systems and overall business success.
Reduce / Eliminate Waste and Redundancy
Overlapping, non-integrated, and outdated applications are harder to manage. SAM provides the information needed to make the best use of corporate software assets and pay only for what you use. Thorough and ongoing reconciliation reveals software overlap, as well as software that no longer required and can be retired. SAM enables the reduction/elimination of software maintenance plans and additional fees on the software no longer used by end-users.
Elevate Market Position 
SAM helps the business gain the competitive advantage required in the marketplace. Up-to-date licensing and a comprehensive documented media library can result in faster, more natural processes and streamlined software functionality throughout the organization; both with day to day activities and in times of mergers and acquisitions.
Increase Long-Term Business Value
SAM increases business agility and enhances its future value by ensuring the strategic use of software assets in times of changing business conditions. With consistent and effective SAM practices in place, the business is more efficient and can respond quickly to market conditions and opportunities. Following the SAM industry, best practices provide more focused and appropriate information for decision-making and more operational excellence; ultimately driving long-term business value.
Summary 
In the face of continual acceptance and implementation strategies of digital transformation and ever increases of the business and technical challenges associated with technical complexity, SAM is evolving as a critical strategic lever in an organization's technology tool arsenal for delivering much-needed visibility and controls for successfully managing software application sprawl.