Introduction
COVID-19 is a significant medical problem and the catalyst for the ensuing global recession. The business community hard hit with mandates and virus containment measures continually face challenges for dealing with lockdowns, job losses, and supply chain disruptions. The IMF World Economic Outlook, 2020 recently highlighted that many countries face a multilayered crisis caused by a health shock, domestic economic troubles, falling foreign demand, the reversal of capital flow, and commodity price collapse.
The post-COVID-19 business atmosphere is subject to a wide array of research and prognosis on the recovering economy's timing and scale and societal repercussions, as mirrored in the future industry and individual business climate. The pandemic crisis has influenced organizational uncertainty and conflict and will continue to introduce a new business normal as it unfolds into an indefinite post-crisis period.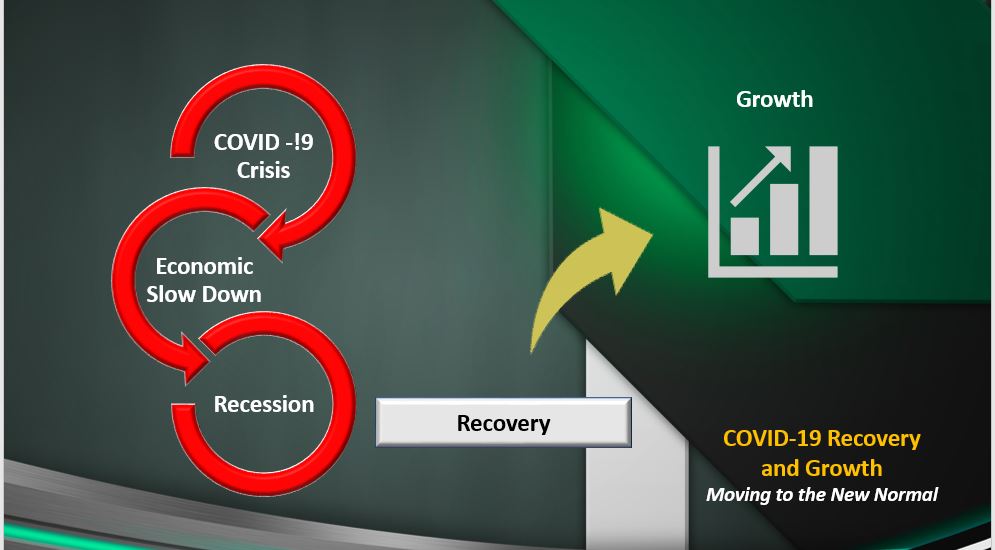 The new business environment progression will undoubtedly include a substantial impact on the corporate culture, strategic initiatives, engineering of a more productive workplace, and fully exploiting technology to align with the post-pandemic success criteria. Profitable businesses will most certainly rely on a cadre of seasoned and smart leadership to drive definite plans and decisions, not passive actions, to limit tenacious disruption and actively shape their positive progress.
It is a fact that 86 % of 1955 Fortune 500 companies no longer exist. It is also alarming that pre-pandemic market analysts predicted that 40 % of current Fortune 500 businesses potentially face extinction in about ten years. Will this number soar as a result of the COVID-19 recovery and growth decisions of these leading companies? Is potential failure concerned with selecting or executing the wrong business strategy, questionable strategic choices, and a leadership failure or gap? Current workplace cynicism and generational social behaviors highlight organizations' need to revisit how to exercise visionary and innovative leadership and positively engage their followers. .
"

The reality of life post-COVID-19 has not fully sunk in yet, and its consequences for our businesses, organizations, economy, and society will play out over the rest of 2020 and beyond.  Right now, we really 

need

 sober, smart, values-driven, and focused leadership.  Remember the old adage, "Crisis does not build character, it reveals it."  
Post-COVID-19 Leadership Challenges
Corporate leaders must be proactive and willing to execute unique pivots to mitigate the potentially damaging impacts on organizational operations and their employees' and customers' wellbeing within the new reality. Pivoting may involve changing one or more essential aspects of the business, whether it is the employee-based or focused on target markets, product development and fulfillment, customer relationships, and execution-style.
The key challenges requiring rethinking and change encompass the below.

The aftermath of the pandemic crisis will likely continue for an extended period and have consequences for strategic business plans requiring organizations to set and drive the new normal-supported vision and required organizational changes. These future situations call for a leadership team to see the forest for the trees and apply innovative thinking and appropriate and timely decision-making to resolve complex problems and risk conditions.
There is no simple route through the crisis, although focus and prioritization will be front and center. Besides the apparent challenge of forging the optimal forward path, business leaders face the considerable task of continually reassuring all stakeholders that their decisions support their values and needs and business sustainability.
The good news is that leadership skills are acquirable with the availability of professional classroom, online, and other learning experiences. Rising to the top of the corporate ladder is a goal for many employees. Still, it can be only a reality for managers who continually develop their leadership qualities and hone their soft skill social and communications abilities.
"Today's CEOs are faced with overwhelming, competing challenges and uncharted waters as they continue to navigate the impacts of the COVID-19 pandemic. Many organizations are already taking "no regret" actions to emerge from the pandemic stronger. These leaders are facing the crisis with a spirit of reinvention—accelerating digital transformation, establishing variable cost structures, and implementing agile operations."

Accenture
The Leadership Story
The word "leader" symbolizes a person who commands authority or influence and is a take-charge type of charismatic individual. In contrast to a manager, a skilled leader develops a shared vision, sets strategic directions and priorities, articulates real values, and inspires others for business and success. Leaders who command respect among their followers customarily demonstrate empathy and support and have a genuine interest in helping their careers and welfare.
Managers recognized as true leaders who embody an array of vital leadership traits that promote the development of a fair, balanced, and friendly work environment, including: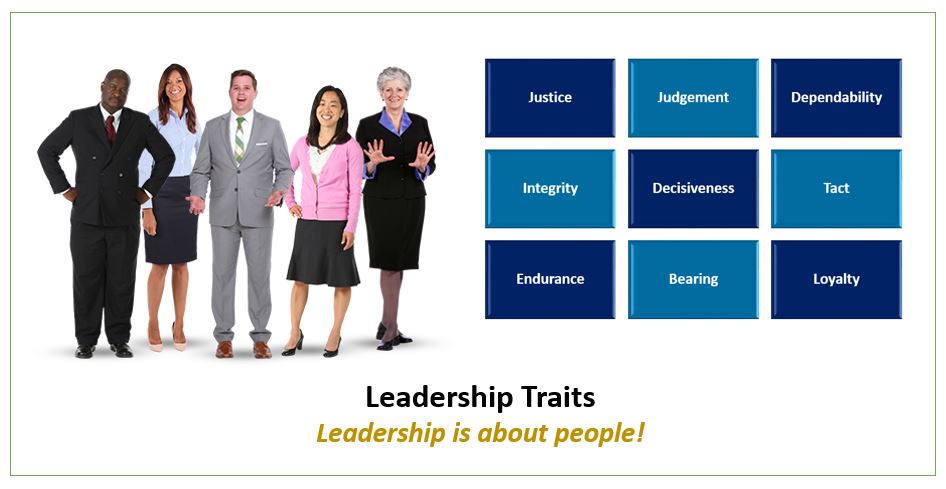 Leadership is acknowledged to have nothing to do with an organizational title, hierarchy level, or wield power ability. Titles are subjective and have different implied and tacit meanings in the workplace. Too many people believe that a company's executive team members should also have a leader title.
There are both leaders and business managers in the workplace. While some leaders have managers' titles, and some managers are true leaders, leaders and managers generally have dissimilar personality traits, behaviors, and skills that drive their motivations and actions.
"If your actions inspire others to dream more, learn more, do more, and become more, you are a leader."
Managers and Leaders: Differences
The key difference between leaders and managers is that people follow leaders, whereas managers have people work for them. Historically we have been taught that management was the more clearly defined role and skillset, focused on overseeing the work activities and associated processes.
Successful managers characteristically do not have sizeable organizational influence spheres. They can still be masterful at supervising projects and completing assigned task-based deliverables to agreed requirements on time and budget.
Mangers know how to plan, organize, and coordinate work activities productively. An experienced manager is the best choice when an organization has a complex or compound project to undertake. A great leader is generally influential and inspires new ideas but may not be skillful at managing the many ongoing details involved with driving a project to a successful closure.
Traditionally, managers were promoted and learned how to manage with their immediate manager's coaching capabilities. In many ways, this was appropriate for the skills and competencies required to succeed in the past days. With increased technology and process complexity, managers, as leaders, need to influence, inspire, motivate, and create a clear and compelling vision for the worker's and organization's success.
"Great leaders are almost always great simplifiers, who can cut through argument, debate, and doubt to offer a solution everybody can understand."
The below table identifies the critical differences among managers and leaders.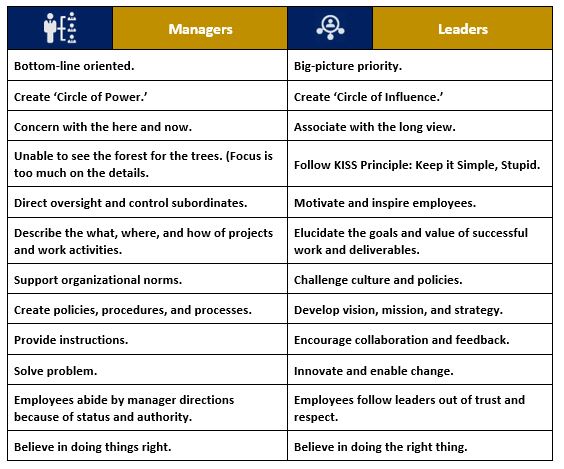 "Outstanding leaders go out of the way to boost the self-esteem of their personnel. If people believe in themselves, it's amazing what they can accomplish."
Leadership Styles
It is essential to understand and appreciate the different leadership styles to select the most suitable fit for a person's personality, behaviors, and organizational role and responsibility. Mimicking a particular class does not guarantee that followers will relate to that type and trust and genuinely respect the leader. Leadership is about an individual that can continually exhibit the right behaviors and practices providing positive and accepted responses in personality-rooted, work-related, and other problematic situations or encounters. Hence, the prime leadership consideration is about using one's natural leadership capabilities to apply authentically to inspire and motivate others within a definite style.
The personal leadership styles shown below support different organizations and cultures and customarily adapted to specific workplace situations.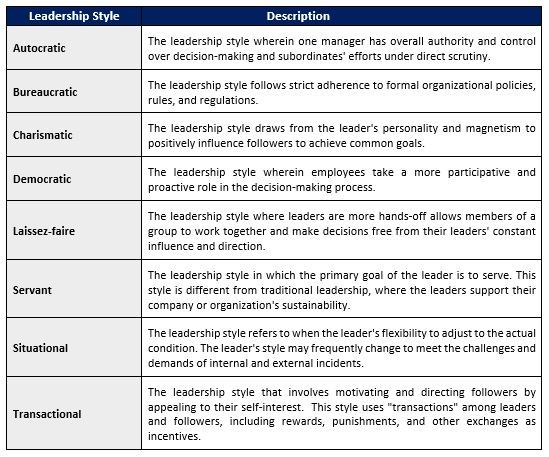 "Management is doing things right; leadership is doing the right things."
Leadership and Millennials
Millennials representing about 81 million, are projected to be 1 of 3 adults in the U.S. by 2020. This generational group comprises people born from 1981 to 1996 after Generation X and before Generation Z. According to the U.S. Census Bureau, Millennials currently represent about 35% of the U.S. workforce, making them the largest group in the U.S. labor force. Further, this group is estimated to be about 75% of the workforce by 2025.
While Millennials are motivated to work, their expectations are different from past generations resulting in some employers struggling to adapt. A much different technological and cultural landscape has shaped some unique characteristics in workplace governance and activities.
Millennials, the first generation to grow up immersed in the dynamic reality of everyday use of technology and social media, are computer literate and driving digital transformation in their companies. The Millennial manager's penchant for teamwork, constant communication, and social responsibility directly influences how businesses operate today and undoubtedly for the future. These trends, in many ways, challenge the out-of-date approaches of the Baby Boomers and Gen X generation. Changes will continue to be more widely accepted to support business improvement practices with Millennials' acceleration into corporate leadership roles.
We are now seeing the rapid advancement of Millennials into crucial business leadership roles. A key challenge will be how to leverage and cultivate the Millennials' traits and qualities, predisposition to digital technology and social media use, and professional competencies while simultaneously developing the necessary leadership skills to support future years of product innovation and market sustainability.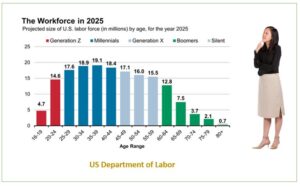 Traditionally, managers receive promotions into their roles based on tenure or previous positions with little influence on whether they have the humanistic capabilities of being an effective leader. By 2025, Millennials will represent most of the workforce, requiring organizations to reimagine the approach for correctly identifying, training, and mentoring the new generation of employees with leadership traits and behaviors. The US Department of Labor chart alongside highlights the five generations' age group distribution, highlighting the Millennial workplace explosion.
The trends associated with Millennials' elevation to critical senior and executive management positions and influential organizational leadership roles highlight the differences between Baby Boomers and Gen X. For example, Millennials:
Embrace a flat organizational reporting structure.

Encourage employee empowerment at all levels.

Place a high value on managers who encourage continual collaboration and feedback.

Challenge policy and decision-making that are viewed as illogical and lacked quantifiable value creation.

Support a work-life balance with job flexibility.
"

What leaders need during a crisis is not a predefined response plan but behaviors and mindsets that will prevent them from overreacting to yesterday's developments and help them to look ahead."
Emerging Managers with Leadership Potential
The targeted market segments in which companies operate have significantly changed and continue to shift with growing rapidity. This trend requires leaders to possess a more comprehensive set of soft skills than in the past, emphasizing adaptivity and the ability to recognize, embrace, and respond to complexity, new opportunities, and conflict. In this context, successful leaders have to expend maximum effort to understand and appreciate the external situation to correctly position their governance and operational structures.
Leadership development has customarily focused on the highest echelons of a company's hierarchy. But as business entities and the marketplaces become more complicated in the post-pandemic crisis, it is becoming increasingly clear that effective leadership will reign as the prime contributor to a responsive culture and business success.
Best-in-Class enterprises appreciate that long-term business sustainability requires a pipeline of emerging senior and executive managers with leadership abilities who can help secure a prosperous future for the business and employee population. Companies are setting up formal leadership development programs to respond to this strategic requirement. Key program goals include:
Create selection and measurement criteria.
Identify potential emerging managers.
Develop selected managers' leadership skills and thinking processes to prepare for the change from managing self to managing others.
An organization's commitment to long-term leader development can expect to gain a competitive advantage by maximizing the bottom line; attracting, developing, retaining top talent, and increasing the percentage of winning strategic decisions. The leadership development program improves the emerging managers' professional capabilities with training and learning experiences focused on: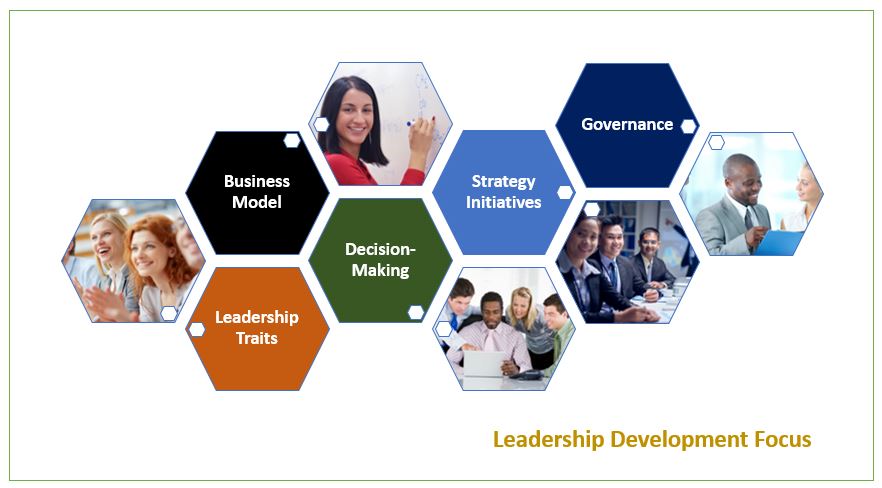 Nowadays, a visible technology impact on leadership program development can quickly personalize, thus enabling participants to select from on-demand resources and preferences geared toward their learning style, pace, interests, and goals. With comprehensive business knowledge, a global perspective, and highly-tuned management insights, the emerging managers will be ready to accept a senior manager role with leadership responsibilities.
"80% of respondents, in the face of new pressures, believe that they need to develop leaders differently."
The Way Forward
At Knowledge Compass, we bring together nearly four decades of thought leadership in business and technology strategy, the latest tools and best practices, and a seasoned consultant team with the competencies and talent to help our clients improve productivity and profitability.
Knowledge Compass explores and develops valuable new insights from business, technology, and science by embracing the powerful technology of ideas and brainstorming. Our consultants engage customers in challenging discussion and experimentation to expand business science boundaries and practice and translate creative ideas into practical solutions from within and beyond business.
Working with Knowledge Compass means a collaborative approach to understanding your current business model, strategies, and critical business requirements and goals.
We enable organizations to transform and deliver improved value by ensuring employees adapt and make the most effective use of crisis management and change practices in culture, strategy, infrastructure, processing and digital transformation. Our consultants have a deep understanding of the social and business factors that support a KM culture aligned with the corporate strategy and goals.
Knowledge Compass provides consulting services using time-tested best practice frameworks, analyses tools, and interactions from their professional Consultant Toolbox.