Introduction 
Technology innovation continually challenges the status quo and disrupt how businesses engage with customers, employees, and partners. No longer relegated to the IT department, technology strategies and supporting initiatives are regarded today as mission-critical to the overall business success. Across all sectors and geographies, digital technology is reshaping current technology investment thinking and decisions and creating new and creative business model schemes.
Digital transformation represents a significant redesign of the type and style of work activities and the skills and talent needed to ensure optimal worker capability. This movement drives a revolutionary change in how companies deploy and value technology entailing the collapsing of unproductive silos, encouraging online collaboration, and shifting from transactional systems to a multi-faceted and interconnected ecosystem that functionally contributes to processing improvement and talent enrichment.
Digital transformation is the approach for leveraging digital technologies to create new or modify existing policies, processes, procedures, and customer experiences to meet changing business and market challenges. It's also a cultural change enabler that  encourages business leaders to question the status quo incessantly, explore new workplace digital-based practices, and supporting training and learning approaches.
In the current economy, companies to remain viable need to adopt a reinvention and challenging persona to optimize technology investments incessantly and ensure enduring business strategy alignment. It is well-recognized that 'best-in-class' organizational technology strategies are tethered and aligned with corporate business strategy. They are also set-up within a digital maturity model that continuously assesses the enterprise maturity level within an ongoing assessment of business strategies, processing, work practices, and emerging technologies. These analyses provide an integrated approach that identifies and quantifies the appropriate short and long-term success paths for the business with technology as a critical driver.
Research and experience support that technology executives' primary responsibility is making time-critical decisions on technology investments in support of the development, sale, and support of products and services. With so many choices in a vast array of new emerging technologies, winning strategies must prioritize technologies that empower the delivery of differentiating products and servicing capabilities that create and sustain long-term value and loyal customer culture.
"At least 40% of all businesses will die in the next 10 years… if they don't figure out how to change their entire company to accommodate new technologies."
Capturing a digital transformation opportunity is at the center of contemporary business strategies reflected in improved revenue, profits, and productivity gains. An array of dynamic market forces drive the need to become a digital-focused business, as shown in the graphic below. Firms with a vision to be a successful company in future years must understand these trends' values and risks on their strategic technology investments.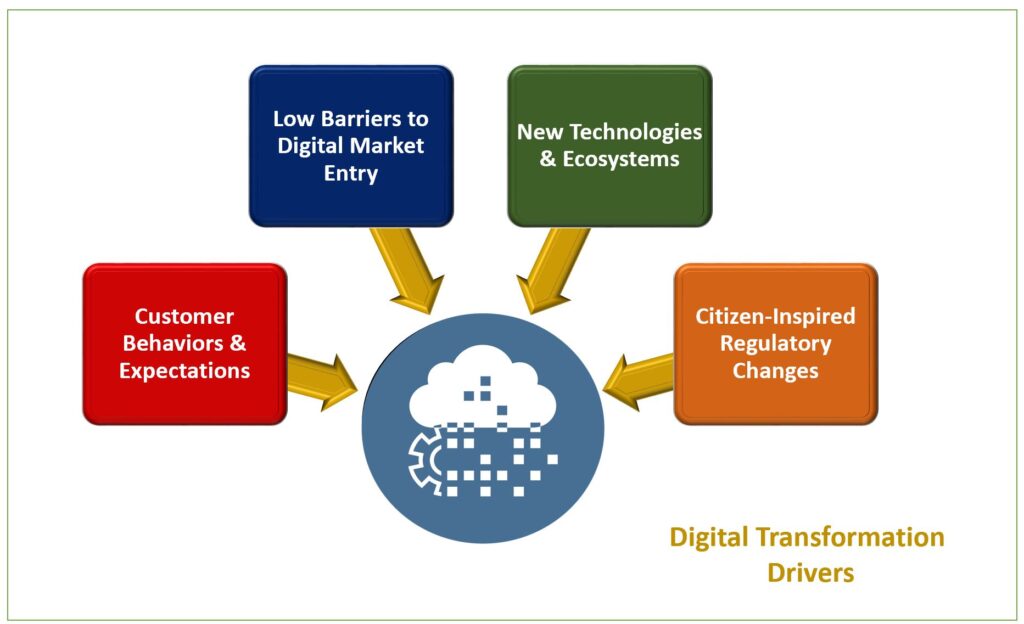 Though corporate executives don't need to be technical gurus, they need a deep appreciation of the values and risks encountered at the confluence of business strategies and technology assets. They also need to be equipped, via skills and experience, to provide hands-on leadership in deciding the appropriate selection and integration of productivity-focused technologies within processing and workplace best practices.
"Digital transformation is about sweeping change. It changes everything about how products are designed, manufactured, sold, delivered, and serviced—and it forces CEOs to rethink how companies execute, with new business processes, management practices, and information systems, as well as everything about the nature of customer relationships."
Digital Maturity Model (DMM) & Transformation
Experience supports the use of a Digital Maturity Model (DMM) methodology to assess an organization's technology capabilities and create a holistic 360° view, assessment, and drive forward plans of digital maturity across the different business units / functional business areas. The DMM is used to understand how digitally mature an organization is today and help build a roadmap for improved maturity.
In its generic state, a maturity model is a set of structured levels that describe how well the behaviors, practices, and processes of an organization can reliably and sustainably produce required outcomes.
Successful use of a DMM requires a high level of initial and continual intensity from the management team and employee population as supported by the appropriate strategic technology decision-making and associated investments. Organizational digital maturity covers two crucial corporate intensity elements, as viewed through a digital lens, as described below.

Many technology professionals have used or are familiar with the Capability Maturity Model (CMM), employed initially as an analysis tool for software maturity. The Model's goal is to support software development processes and use with other procedures. The CMM consists of 5 (five) stages of maturity that pertain to an organization's software processes, from the initial level of ad hoc and unstructured activity to optimized. The Model fulfills two vital capabilities for many businesses: it allows them to assess their current software development level and identify the desired level that they needed to attain.
The DMM is similar to the CMM approach and structure. The DMM level to which a company needs to be mature in each area is dependent on the critical decisions underpinning the unique business strategy, business model, and Operating Model. Shown below illustrates five (5) stages of a generic DMM that rely on the six (6) essential strategic dimensions, including Culture, Products, Governance, Infrastructure, Resources, and Customers, to ascertain an organization's level's digital maturity.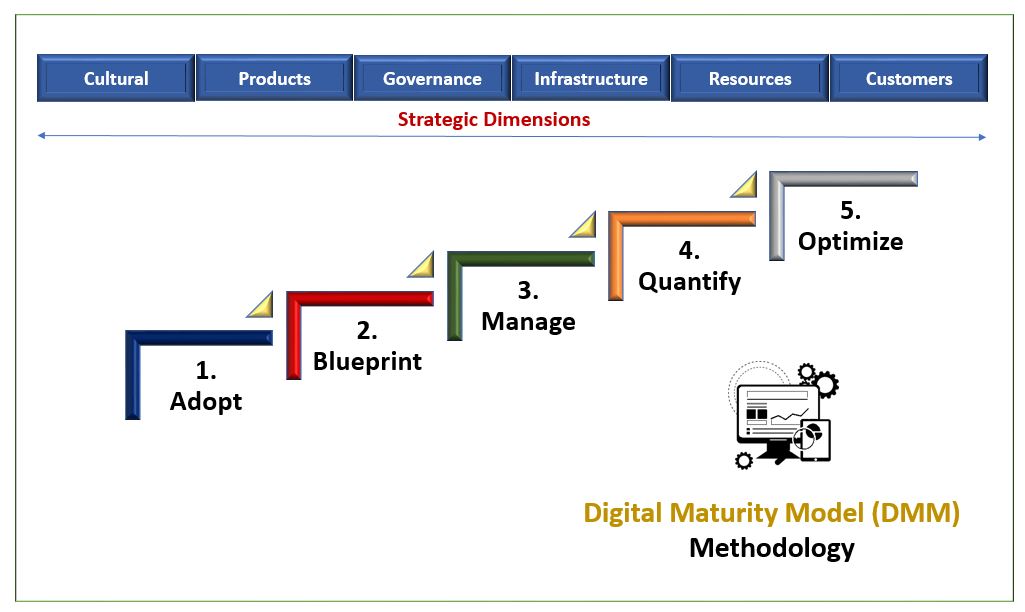 The summary descriptions of the DMM levels follows in the table below.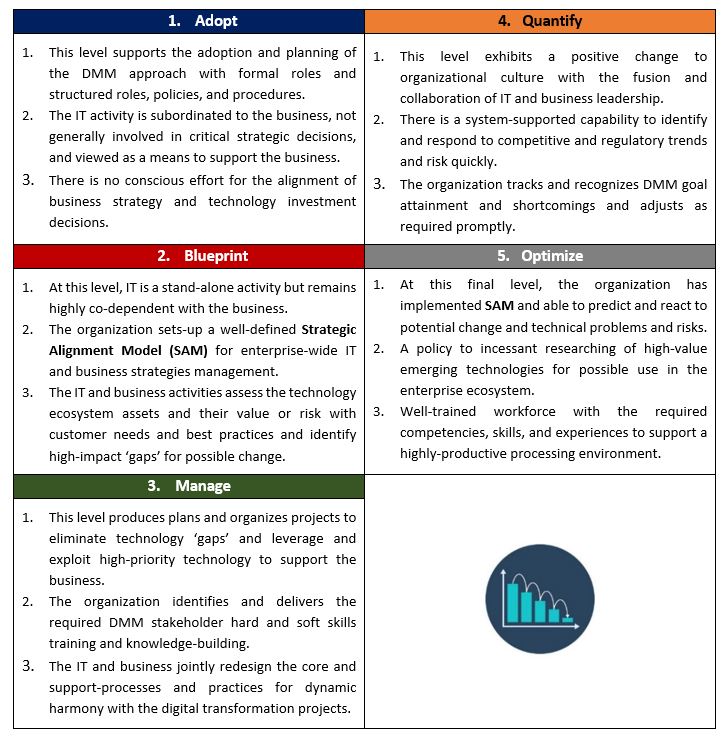 Digital transformation is a planned and well-structured journey, not a destination! For companies that reach their targeted maturity level, there will be a need for continuous rethinking, analysis, and rapid response to change opportunities. The valuable deliverables realized from a well-planned and executed DMM encompass:
Recognize the current level of digital technology maturity.

Identify the technology 'gap' with the competition.

Determine the intensity and capabilities of digital transformation activities.

Quantify values from practical digital transformation efforts.

Understand the risks of incomplete and inadequate digital transformation.

Identify technology priorities within financial realities and constraints.

Create goals and time-certain plans to attain targeted maturity levels.

Incorporate next-generation competencies and capabilities into the existing ecosystem.

Embed business process digitization and streamline and improve processing and customer touchpoint interactions.
"The first rule of any technology used in a business is that automation applied to an efficient operation will magnify the efficiency. The second is that automation applied to an inefficient operation will magnify the inefficiency."
Disruptive Technology & Transformation
Business leaders are somewhat fearful about the escalating velocity of technological disruption. Of the ten leading and well known global companies, ten years ago, only two have retained dominant market positions while innovative technology-focused organizations replaced many others.
Business leaders rely on business model evolution enrichment by smartly identifying and using new digital tools to become productive and provide value to internal processing activities and the customer experience touchpoints. Amid constant discontinuity, technology will disrupt every aspect of our lives and drive business configuration and methods in future years.
Advances in and the exponential pace of new technologies are fundamentally changing the way we live, interact, communicate, and do business in our workplace and social environments. It is not surprising that forward-looking companies are in a period of 'rethink' and engaged in extensive transformation efforts in an attempt to inoculate themselves against the threat of unplanned digital disruption and overlook new revenue-producing and profitability marketplace opportunities.
Gartner's Top 10 Strategic Technology Trends for 2020, shown below, highlight trends that will drive significant disruption and opportunity over the next five to 10 years.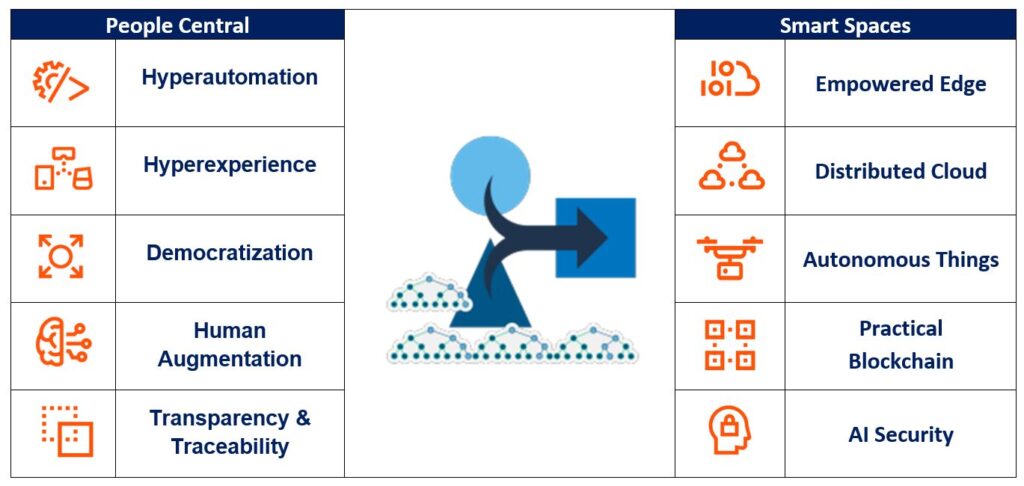 "It's increasingly clear that we're entering a highly disruptive extinction event. Many enterprises that fail to transform themselves will disappear. But as in evolutionary speciation, many new and unanticipated enterprises will emerge, and existing ones will be transformed with new business models. The existential threat is exceeded only by the opportunity."
Change disrupts each status quo in the workplace, and resistance to change is natural and predictable. Disruptive technologies, in the digital era, fundamentally change how we interact and communicate with colleagues, customers, and partners. Any business that chooses to ignore the impact of disruptive technologies is one that incurs an unnecessary risk; high-value emerging technologies opportunities require attention and decisions on their value to improving the company's productivity and profitability.
 "The First Industrial Revolution used water and steam power to mechanize production. The Second used electric power to create mass production. The Third used electronics and information technology to automate production. [The] Fourth Industrial Revolution is … characterized by a fusion of technologies that is blurring the lines between the physical, digital, and biological spheres."
Technology Strategic Planning 
A vital component of the DMM is using the formalized methodology to support the creation of an effective technology strategy. The starting point for the adoption and use of a DMM is to assess the current technology strategy within a Strategic Alignment Model (SAM). There is typically a delay in the start of DMM with a lack of an appropriate technology strategy. The management team can avoid these unnecessary delays by taking the time and effort to create a technology strategy in advance of embarking on the DMM journey.

A technology strategy is a set of mission-critical decisions associated with the investment, development, use, and support of technology assets to ensure approved enterprise-wide business goals and strategies. The technology strategy is not a separate strategy but an integral component of a more comprehensive business strategic framework.

The use of a Technology Strategic Planning Methodology is a critical prerequisite before going ahead and dedicating resources to digital transformation. Anecdotal evidence suggests that corporate digital transformation programs have a higher potential for success with the strategic business and IT decision-making mechanisms in total alignment within a formalized structure across the enterprise.
The essential principles that guide the construction of a winning technology strategy include:
Technology assets are in continual need of replacement and transformation but must be a priority and driven by business needs.
The what and how to change must be thought about strategically with a focus on the current and future.
All stakeholders, including the management team, employees, customers, and suppliers, require consideration in creating and updating the technology strategy.
Ability to translate high-level business strategies to actionable technical solutions.
The traditional approach to building a technology strategy involves a systematized, sequential method that produces a realistic view of the organization's technology asset requirements, supporting the business model and strategy, with a plan for meeting these needs for a future period.d.
The below technology strategy planning methodology supports a practical assessment of the current internal corporate situation and the market environment with a technology strategy that understands and accounts for noteworthy 'gaps' among future solution needs and business strategy investment plans. The effective alignment of business and technology strategies provides the crucial driver for the future (To-Be) process state redesign to leverage the alignment value realized via digital transformation projects.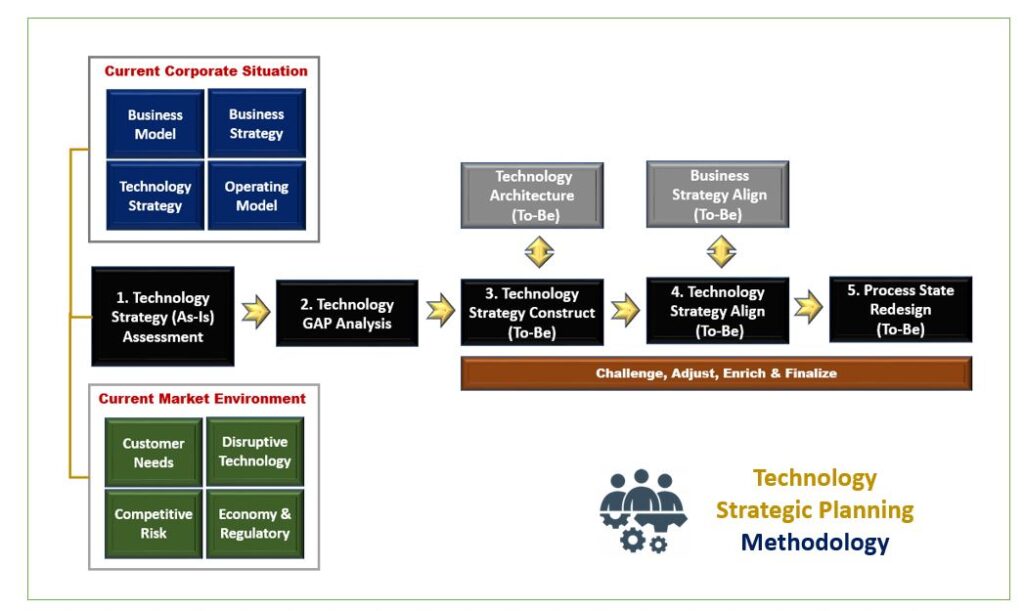 The successful technology strategy development elements encompass: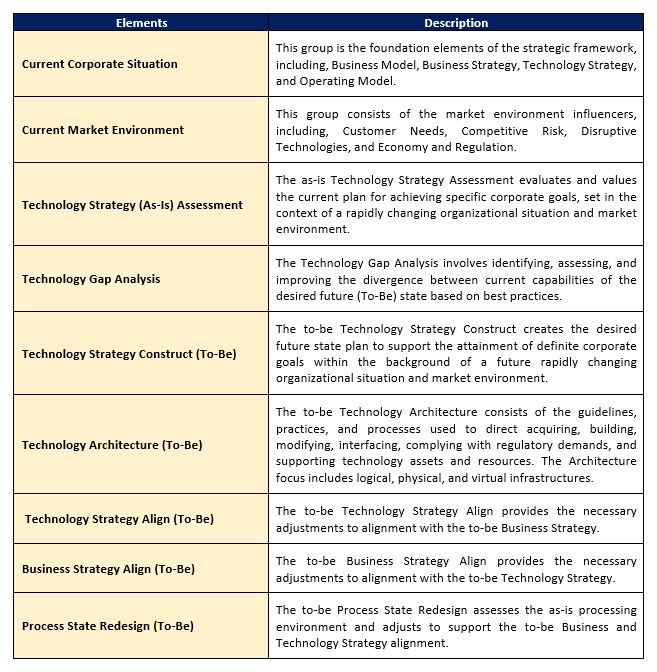 "Many companies make the mistake of focusing too much on just the costs and ignore the potential of new technologies to generate new revenues."
The Way Forward 
At Knowledge Compass we bring together nearly four decades of thought leadership in business and technology strategy, the latest tools and best practices, and a seasoned consultant team with the competencies and talent to help our clients improve productivity and profitability of all enterprise business and support activities.
Knowledge Compass explores and develops valuable new insights from business, technology, and science by embracing the powerful technology of ideas and brainstorming. Our consultants engage customers in challenging discussion and experimentation to expand the boundaries of business science and practice and translate creative ideas into practical solutions from within and beyond business.
Working with Knowledge Compass means a collaborative approach to understanding your current business model, strategies, and key business requirements and goals.
Knowledge Compass provides consulting services with the use of an array of Frameworks, Analyses Tools, and Interactions from their Best Practices Consultant Toolbox.
Creating Answers Together: Challenge Us!