Introduction
Is it possible to accurately predict the Operating Model that companies need to embrace and employ to keep or obtain a competitive advantage, in targeted markets, for future times? Have futurists and business leaders been more right than wrong, over the years, in prophesying the types of infrastructure, technology, and competencies required for market success? These probes underscore the challenges that corporate executives face nowadays in planning for a future business setting that will be significantly different and more complex from today's environment.
From a review of historical events, it is clear that predicting the future is easy; however, getting it right is the hard part! For example, notable quotes by recognized technology leaders of their time that proved incredibly wrong include:
Thomas A. Edison, American inventor 1889 quote: "Fooling around with alternating current (AC) is just a waste of time. Nobody will use it, ever."

Thomas J. Watson, IBM Chairman 1943 quote, "… there is a world market for maybe five computers."

Kenneth Harry Olsen, Founder, and CEO of Digital Equipment Corp. (DEC) 1977 quote: "There is no reason for any individual to have a computer in his home."
We are fortunate that these were only predictions and never seen the 'light of day,' as there were men and women of vision available to incessantly drive technology progress forward to commercial success with their real knowledge, passion, competencies, and investment.
An Operating Model consists of an infrastructure configuration and approach for resource sourcing and uses to support the corporate strategy. The principal purpose is to create and deliver value for targeted customers and stakeholders. There are two states: The Current Operating Model (COM) and the Target Operating Model (TOM), being a future state

.

understanding of the business from diverse perspectives across the enterprise infrastructure. Once an organization understands where it generates the most value, it creates the supporting strategies. The business strategies are necessarily the building blocks for action that seamlessly integrate people, processes, and technology to support successful strategic initiatives across the business.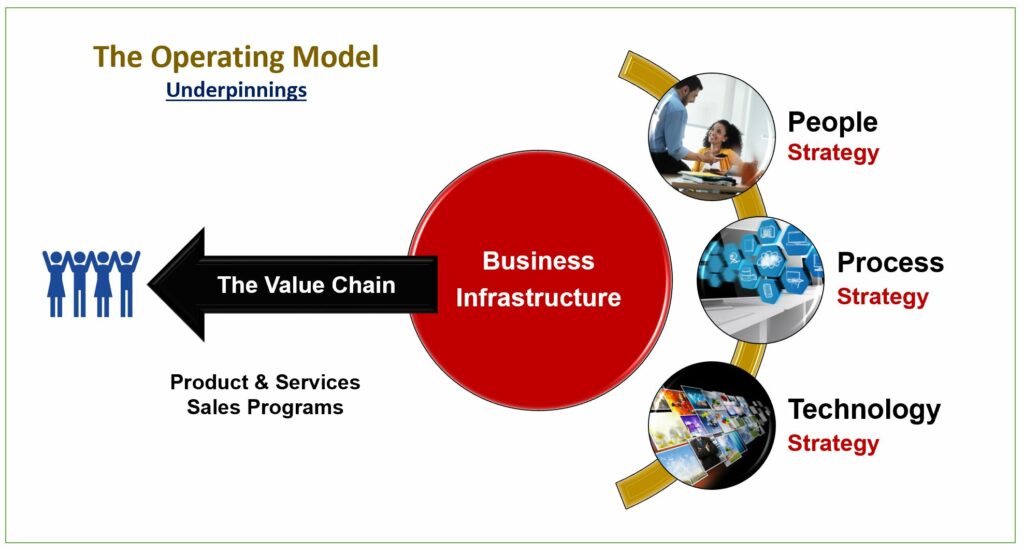 Society, technology, and the economy are changing at a dizzying pace. And these trends are shaping the way we work. We're seeing new kinds of generational people join the workforce who want to work flexibly and productively, which require digital tools for the job. These conditions mean the traditional work approach is being rendered obsolete by a new energized workplace dedicated, boundary-less, totally technology supported, and void of all unnecessary silos and distractions across the enterprise.
These developments result in enthusiastic support at the board room level for the transformation of the operating model to be more robust and productive. Long-established companies are making way for far-reaching changes to all aspects of their business fueled by the need to create new work approaches, develop more highly-skilled and empowered employees, and leverage and optimize emerging technologies. Predictably, the successful operating model transformation will realize substantial value and benefits in the years ahead.
The key challenges that keep CEOs up at night as they plan their future include:
How can we speed up our creative process to discover better-performing product and service opportunities?

How can we continually attract and retain talented employees needed to support future strategic initiatives within groundbreaking paradigm change?

What changes are required to the internal processing and activities to ensure a successful and rewarding customized value chain experience?

How will we successfully integrate and use disruptive emerging technologies within our business activities?

Can our culture successfully evolve to a state to allow for persistent change to meet competitive pressures?
Strategic evaluations require a balance between committing excessive resources to the comprehensive assessment of many different strategic initiatives and merely following knowledgeable 'hunches' that particular strategies are proper. Indeed, in practice, key employees' experience is critical and should be weighted heavily, thereby reducing the evaluation activities. In any event, Identifying the right answers requires a formal evaluation activity with the participation and collaboration of all key company executives and select stakeholders' contributions.
A global study by

International Data Corporation (IDC)

evaluated organizations' "future readiness" in today's digital business world. IDC defines a future-ready organization as possessing these two attributes:

Based on IDC's definition of future readiness in their study, 82% of organizations fall short — with only 18% of organizations worldwide considered "Future Creators," the most future-ready.
Operating Model: The Why?
There is no standard 'shrink-wrapped' prototype or 'one size fits all' operating model guide as companies tailor construction efforts to support their specific business requirements. Every company starts operating model development by reviewing the current business situation within their unique people, process, and technology context and drivers that fuel and demand strategic changes. It is essential to construct an organization's operating model consistent with corporate goals to provide the basis of a shatterproof strategy and execution relationship.
The geneses for the initial creation or update of an existing operating model include business conditions as outlined below.
React to a crisis in the marketplace that directly influences customer behaviors.

Seek new market growth opportunities.

Introduce a new product, service, or delivery platform.

Respond to new or changed governmental regulations and/or fiscal/economic policy.

Launch a technology with a recognized competitive advantage.

Set the stage for a business start-up.
"A company with a strong alignment between its strategy and its operating model is like an engine firing on all cylinders."
Operating Model Construction: Strategic Evaluation
As the future becomes less precise, strategic evaluations become more useful. The goal is not to envisage the future; it is to stretch thinking and planning across multiple plausible future scenarios. It is a tool that stress tests the business along the critical dimensions that will influence the future, even if we cannot precisely predict which direction it will move.
Companies recognize that the new business milieu is where customer preferences primarily drive product and service development and delivery. For many companies, this may represent a significant change from traditional corporate approaches and signifies a need for an update or enrichment to the operating model.
The Operating Model is the tactical vehicle to implement the corporate strategy. Thus, constructing a workable model involves the repurposing of previously approved strategy into bold and common-sense statements defining what the company must do to enable the successful execution of the strategic plan. Facets of the current business could impede future success and possibly introduce potential risk and be recognized and modified or replaced and responded to in specific terms.
The successful evolution from the Current Operating Model (COM) to the Targeted Operating Model (TOM) results from the successful development and enactment of value-quantified strategies for leveraging people, processes, and technology. The strategies primed for inclusion in the operating model must undergo analysis to ensure support with the corporate Strategic Alignment Model (SAM).
The strategic evaluation obtains an appreciation of the company's targeted products and markets, key competition, and the regulatory environment in which it works currently and into a future period. The key deliverable is akin to a SWOT Analysis that names and quantifies:
Significant opportunities and threats in the marketplace.

Recognized strengths and weaknesses as displayed.

Cultural elements and beliefs that may influence strategic decisions.
The criteria against which businesses may adequately judge the projected outcomes of a particular strategy to help in the operating model transformation successfully are using an evaluation lens focusing on suitability, feasibility, and acceptability.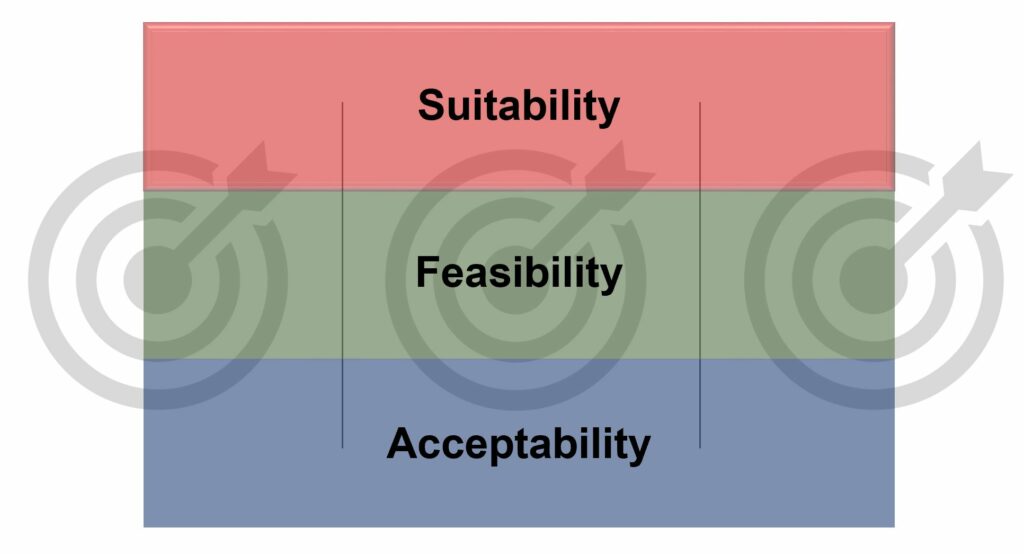 Suitability
Suitability is the criterion for evaluating the extent to which a proposed strategy fits the unique business state and how the initiative would sustain or improve competitive advantage for their products in focused market sectors.
The questions that elicit the information to evaluate the suitability of a proposed strategy encompass.
How does the strategy leverage or exploit the strengths of the business?

Is the strategy able to improve the competitiveness of the company's products (and services) in targeted markets?

Will the strategy support growth projects and profit targets?

Does the strategy have the potential to make inroads into new growth sectors?
Feasibility
Feasibility is the criterion for determining whether a strategy makes sense, is possible, and can be implemented successfully. The approach's scale needs to be achievable in resource terms taking into consideration assumptions, constraints, decisions, and business context.
The questions that elicit the information to evaluate the feasibility of a proposed strategy encompass.
Is the strategy fundable?

Is the prime market position achievable?

How can the company defend against consequential competitive responses?

Are needed employee competencies and experience available at managerial, professional, and operational levels?

Is the appropriate technology to successfully power product development and all processing activities in place or available?
Acceptability
Acceptability is the criterion for determining whether a strategy meets the expectations of select stakeholders. This evaluation is usually problematic since acceptability is concerned with 'acceptable to whom' and requires thoughtful analysis for stakeholder inclusion.
The questions that elicit the information to evaluate the acceptability of a proposed strategy include.
What is financial performance in terms of profitability?

Will the company's financial risk (liquidity) change?

What is the impact on the capital structure?

Will any business activity of any business or support units or individuals change significantly?

Will the relationship with external stakeholders (customers, suppliers, labor unions, and governmental agencies) change?
When there's a meaningful and continuous chasm uncovered between strategy and execution, it's necessary to view the business with a more holistic view of the entire enterprise. This action will unmask any item of the operating model that is unaligned with the strategic intent. Without this view, businesses run the risk of focusing on one-off changes such as adjusting spans and layers, which on their own, may not address a fundamental misalignment of the operating model.
"It's not surprising that many companies consider evolving their operating model as a top-three priority, given that only one-fifth of executives who Bain surveyed feel their operating model provides a competitive advantage."
Strategy and Operating Model: Differences
There is much confusion on the use of the strategy and operating model terms among corporate executive teams. The below table outlines the commonly recognized differences in these two important terms.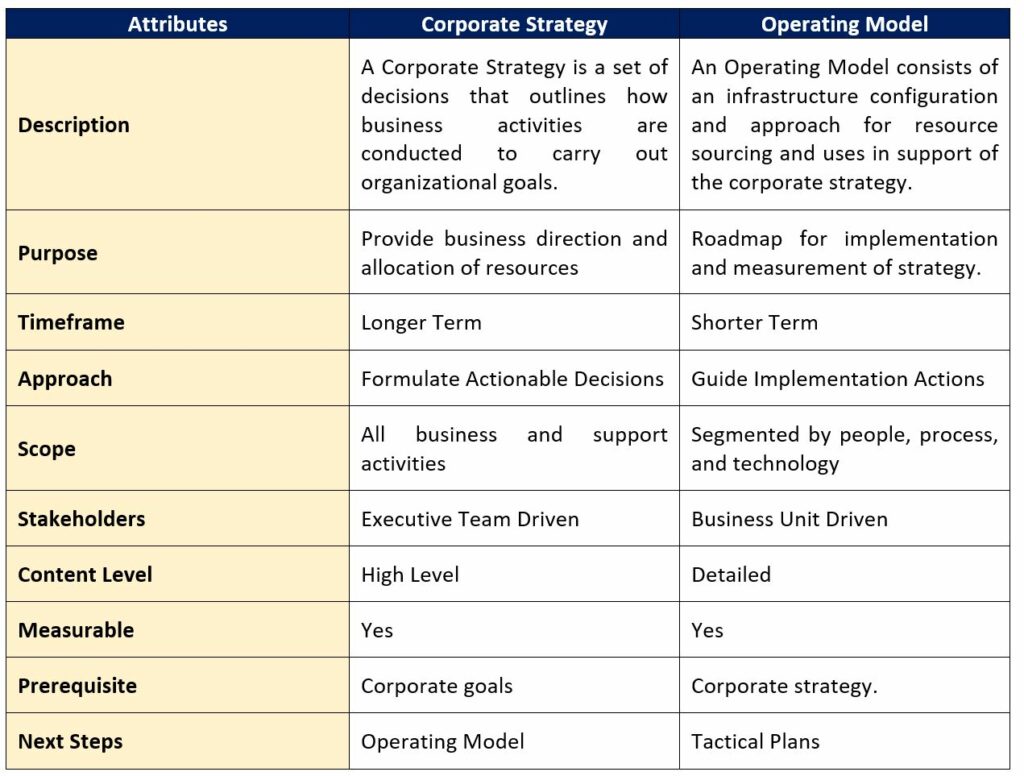 "Remember, today is the tomorrow you worried about yesterday."
The Future of Work Change: Drivers
The Fourth Industrial Revolution encourages companies to take advantage of new and emerging technologies to reach higher efficiency levels of production and consumption, expand into new markets, and compete on new products for a global consumer within a digital-connected community. Distributed workforces and more productive processing and work structures are driving a fundamental shift in how today's successful companies think and operate in a highly competitive business ecosystem.
The challenges at the heart of this dissemination are that many companies have not yet understood nor embraced a mindset change to a new work environment fueled by an array of integrated smart technologies. To survive disruption and thrive in the future, astute business leaders must shift their focus and accept a modern approach that fits their unique culture, mission, and goals. The new environment necessitates a thorough rationalization of each component of the corporate operating model's purpose and outcomes.
A discussion below highlights the intimate relationship and dependence of people, process, and technology strategies and plans as contained in the operating model.
The People Element
There is a growing recognition that, as technological breakthroughs precipitously shift the frontline between the work tasks performed by humans and those by machines and algorithms, labor markets are likely to experience significant transformations. The people element changes can result in many companies with substantial changes adopted for an array of new technology-enabled human resources. Interestingly, most shifts result from the use of smart technologies will focus on human-machine interactions.
Expansion of the workforce through increased technology may well free up workers from bulk data handling and search activities. It may also increasingly expand the time for conducting high-value activities, such as analysis and decision-making at the expense of redundant and non-productive operational responsibilities. The changes hold the potential to grow worker productivity and value across most industries and shift the competition axis between companies from a focus on automation-based labor cost reduction to leverage technologies as tools to complement and enhance human labor.
More and more, companies are pursuing workers with both new hard and conventional soft skills from further afield to retain a competitive edge and expand their workforce talent base. Some workers identify attractive opportunities in a variety of new and emerging job positions, while others are experiencing a rapidly declining outlook in a range of job roles traditionally considered 'safe bets' and secure gateways to lifetime professions and careers.
Deloitte's 2019's Global Human Capital Trends highlighted that the most significant workforce and talent issue for C-suite executives was "transitioning to the future of work" (28 %), followed by the need to redesign work (25 %) and reskill the workforce (24 %).
McKinsey

recent survey revealed:

"60 percent of global executives expect that up to half of their organization's workforce will need retraining or replacing within five years. An additional 28 percent of executives expect that more than half of their workforce will need retraining or replacing."
It is mission-critical for businesses in today's economy to formulate a comprehensive people strategy to meet the skill challenges of this new era of accelerating change and innovation.
Deloitte

defines the future of work as a result of many forces of change affecting three connected dimensions of an organization:

Work (the what)
Workforce (the who)
Workplace (the where)
A positive people strategy incorporates the Deloitte Future of Work Model approach and supplies the plans required to support the corporate operating model's strategic criteria and intent. The strategy addresses how the company will set-up or invigorate the employee universe with a workforce recognized as:
Fluid: Complete work activities in the office or remotely – any place at any time.
Open: Collaborate and share information with employees and teams from any location, on any device.
Balanced: Balance employee role and work activities with mental wellbeing and quality of life.
Personal: Personalize work schedules and workstyle approaches and techniques.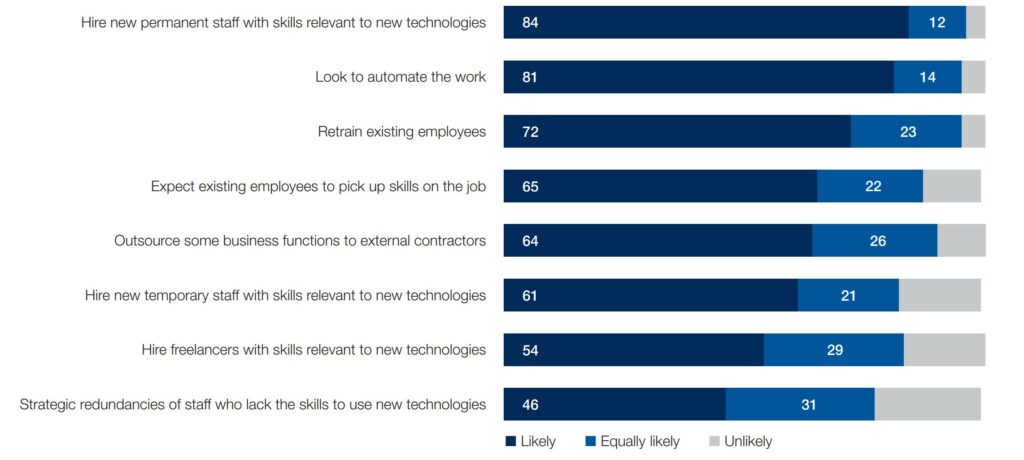 The Process Element
A successful business process is a hybrid solution enabled by the right technology and performed by skilled and talented people. In total, the appropriate business process design ensures a smooth flow of inputs and outputs via multiple touchpoints and decision points among the workers and supervisors, customers, and other enterprise and external systems.
Traditionally, the technology implementation approach consisted of dividing the associated work processes and activities into small tasks with clearly defined responsibilities and acceptable performance standards based on low levels of employee skill and motivation. These frameworks consisted of highly specialized management roles and authority reinforced through sharp status hierarchies.
Piecemeal technology-aided process improvement has been an accepted convention over the years. However, experience shows that unassociated or loosely coupled work activity fixes typically present more problems than benefits. A top characteristic of a successful change program is total stakeholders' acceptance of the goals and projected value realization to the business, customers, and workers. It is challenging to articulate change themes for multiple individual process changes with clarity and conviction. To improve results, organizations need to approach process redesign programs holistically.
Today, the successful introduction of technology starts with an understanding of the existing culture and personality, organizational structure, and 'To-be' processing design requirements and stakeholder needs and expectations. Underlying this new mindset approach is a change in fundamental beliefs about management's role from 'power and control' to 'trust and cooperation' and an objective for a real motivated workplace.
The rise of dynamic workplace process automation can improve productivity and augment the workforce's work immeasurably. Process automation can help streamline and remove the burden of repetitive work activities and enable employees to focus primarily on solving more complex problems while reducing the risk of error and improving overall quality while allowing focus on value-added responsibilities.
"The bottom line is, when people are crystal clear about the most important priorities of the organization and team they work with and prioritized their work around those top priorities, not only are they many times more productive, they discover they have the time they need to have a whole life."
The Technology Element
A conversation about the workplace almost always starts with technology. Indeed, technology is the driver that allows anybody, anytime, to complete work from practically anywhere. The velocity of technology change has significantly accelerated over the last ten years. Fueled by Moore's Law, globalization, and consumerization, digital technology is progressing at an unprecedented rate. As technology is further accepted and integrated into the business, it will continue to improve processing and interactions with customers and partners as participants in the value chain.
The capability to effectively adopt, integrate, and use the right technology provides a competitive advantage. Emerging technologies drive the future approach and conduct of work and are widely demonstrating their value to supply new innovative tools to power improvements to the operating model continually.
As the workforce grows, technology takes center stage. This condition is especially true in industries that depend on technology to reach new production and innovation levels continually. Improved and better-quality hardware and the software are mission-critical to help meet end-user expectations and keep up with the competition.
Nowadays, the challenge of assessing the potential impact of emerging technologies is common and troublesome. New technologies appear continually in the headlines, and the media frequently highlights some as "disruptive" technologies. These developments make for good reading; however, the question that comes to the mind of most corporate executives is, "Will this technology provide value to my company?"
Six specific technological advances overshadow the economy over the next few years as drivers positively affecting business sustainability and growth. These technologies offer the most future value in supporting improved business productivity, and profitability encompasses the solutions outlined below.
These technologies represent a growing toolbox of potentially rewarding solutions to solve current problems and exploit new productivity and profitability opportunities. However, the adoption and operationalization of many of these technologies individually or in multiple solutions raise concerns and risks.
Best-in-class organizations undergo a formal decision-making event to support the assessment and adoption of new technologies. A technical assessment typically focuses on obtaining answers to the strategic-driven questions displayed below.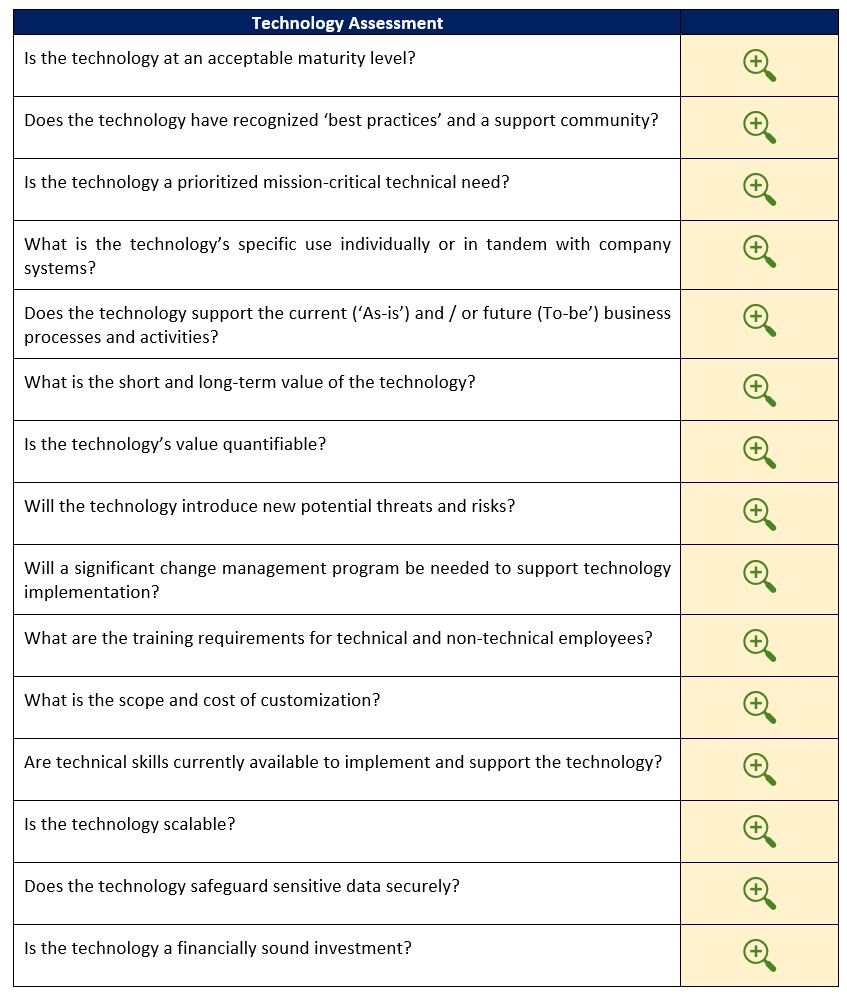 According to Accenture Technology Vision 2019 Survey of 6,672 business and IT executives, 45 percent report the pace of innovation in their organizations has significantly accelerated over the past three years due to emerging technologies.
The Way Forward
At Knowledge Compass, we bring together nearly four decades of thought leadership in business and technology strategy, the latest tools and best practices, and a seasoned consultant team with the competencies and talent to help our clients improve productivity and profitability.
Knowledge Compass explores and develops valuable new insights from business, technology, and science by embracing the powerful technology of ideas and brainstorming. Our consultants engage customers in challenging discussion and experimentation to expand business science boundaries and practice and translate creative ideas into practical solutions from within and beyond business.
Working with Knowledge Compass means a collaborative approach to understanding your current business model, strategies, and critical business requirements and goals.
We enable organizations to transform and deliver improved value by ensuring employees adapt and make the most effective use of crisis management and change practices in culture, strategy, infrastructure, processing, and digital transformation. Our consultants have a deep understanding of the social and business factors that support a people-based culture aligned with the appropriate corporate strategy and goals.
Knowledge Compass provides consulting services using time-tested best practice frameworks, analysis tools, and interactions from their professional Consultant Toolbox.
Creating Answers Together: Challenge Us!