Introduction
Information Technology (IT) investments have become one of the more critical and expensive items in a company's investment portfolio. Best-in-class organizations ensure that these investments are helping to provide real business value with the use of the strategic alignment model. 
The Strategic Alignment Model (SAM) provides an organization with a robust yet flexible information technology (IT) foundation and roadmap for enabling the attainment of business goals and creating value. This principle advocates that corporate IT-related investments, activities, services, and projects support creating or leveraging business value to achieve the business-related goals and improve the 'customer experience.'
Strategic alignment links a company's business and IT structure and resources to continuously adapt to an approved business environment changes within the strategic enterprise framework. 

This approach enables higher performance by optimizing the cohesive contributions of people, processes, and technologies to realize measurable goals and objectives, thus, minimizing waste, improving productivity, increasing profitability, and misdirection of resources to unplanned or unspecified purposes.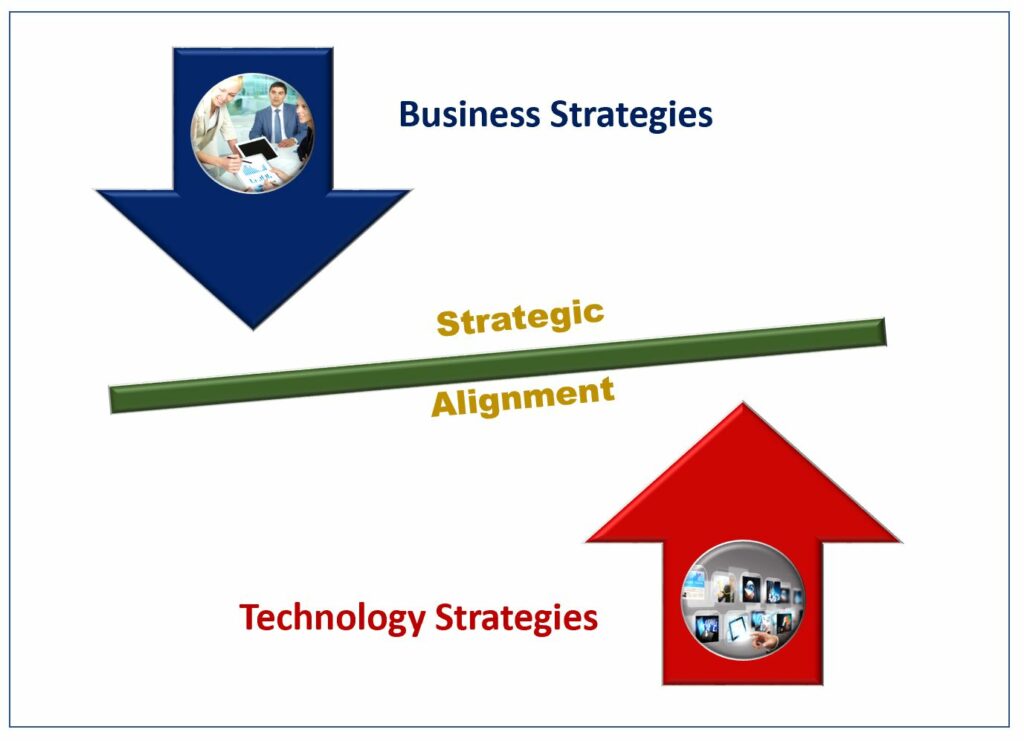 In the current economy, it's a priority that the IT supporting its business model is not only aligned but ingrained into the fabric of the business's corporate framework. Aligning business and IT strategies is nothing new and novel in management sciences, with practical use as an effective structured strategic method since the 1970s.
Strategic alignment needs to be viewed as a practice and not a point in time event and continuously in motion with necessary changes and enrichment. A business achieves material alignment when all it's IT strategic initiatives are totally in line with the business units' strategies.
Strategy alignment initiatives typically are intangible, soft, and difficult to measure; the business value of strategic alignment can and should be measured by the same financial standard as any hard asset. The goal of identifying business value generation is not just to validate the corporate ROI but to identify the specific drivers of business success and maximize the effort for a higher return in future strategic initiatives.
"Many people see technology as the problem behind the so-called digital divide. Others see it as the solution. Technology is neither. It must operate in conjunction with business, economic, political and social system."
The successful use of SAM can help increase a company's performance leading to improved financial management of the business and IT investments, more efficient and effective technology-fueled processes, faster response times, and more efficient supply chains. These conditions are possible because all business units collaborating within the SAM are working towards common goals in complete harmony with its enterprise IT strategies and initiatives.
"The history of technological advance in business is littered with examples of companies focusing on technologies without in­vesting in organizational capabilities that ensure their impact."
Technology – Business Challenges and Dangers 
Although this dependency on IT provides clear benefits, it also presents unique business challenges and dangers. The complexities of innovative digital solutions to many business infrastructure areas leave businesses more exposed than ever to inherent risks. Software and communications events that previously contained within the IT activity now affect the entire business universe. Data loss, inaccessibility, corruption, security breaches, and infrastructure failures quickly become risk situations that can profoundly reduce a company's productivity, brand and reputation, and capability to attain strategic goals.
Due to digitalization, globalization, and the increased level of smart digital technologies across the business, we find the following as the biggest impediments to successful strategic alignment: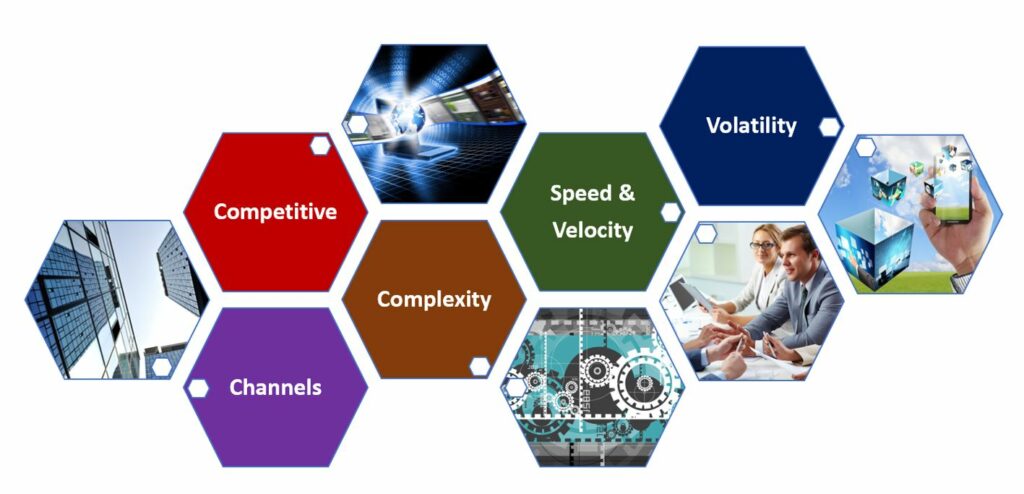 Competitive

: Customers are increasingly demanding customization, and companies must offer more personalization to continually provide differentiation of products and services. 

Channels: The business landscape has changed from traditional single-channel to dynamic multichannel and omnichannel environments. To provide long-term sustainability, companies need to adopt and implement technology solutions to support the new age environment. 

Complexity

: As the business scope and market reach have grown, regulations widened, and volumes increase, so introducing new and unsettling technology-rooted complexity and risk. IT executives need to understand and select the right blend of software, hardware, and communications solutions to safeguard against future exposures.

Speed/Velocity

: As the company's requirement acts and reacts faster because of customer and market demands, strategic alignment becomes more difficult because of the lack of corporate experience in making fast decisions and changing decisions without undue research and planning. 

Volatility: The rate of business disruptions and innovation is dramatically increasing and will continue for the long term. This condition results in increased levels of risk and business uncertainty. Companies must be able to recognize, understand, and convert into new opportunities quickly. 
All of the above are manageable with the development of focused strategies and plans within a strategic alignment model program.
According to the Global C-Suite Study, CEOs say

"IT is the chief external influence on their enterprise

s."
The Corporate Strategic Reality
The term 'Strategic' is generally associated with decision-making for crucial boardroom level initiatives and plans. It is a given that the corporate business model and focuses on product development, promotion, delivery, and support are strategic business elements. The reality of the current business environment is that many businesses exhibit a pretension for investment and adoption of non-strategic technology products by being too early or too late to meet customer demands and mitigate competitive intrusions. Thus, diluting the strategic nature of IT investments and wasting corporate investment funds.
In situations where corporate decision-making lacks a genuine commitment to strategic alignment, failed IT investments generally result in the deployment of problematic technologies, unsettled business processes, with increased risk and non-attainment of financial goals.
Strategy without action is simply an intent to do something; action without strategy results in a lack of planned or negative results. As a dynamic program, strategic alignment facilitates continuous monitoring, review, and updating crucial in today's environment of disruption and constant change.
As a strategy produces measurable results, the responsible executives need to rapidly identify problems and opportunities and adjust the strategic underpinnings as required. The strategic approach should be iterative and dynamic and not static.
"You never know what results will come from your action. But if you do nothing, there will be no results."
Knowledge Compass: Strategic Alignment Model (SAM)
Knowledge Compass supports the use of the Strategic Alignment Model (SAM) shown and described on the below graphic and table.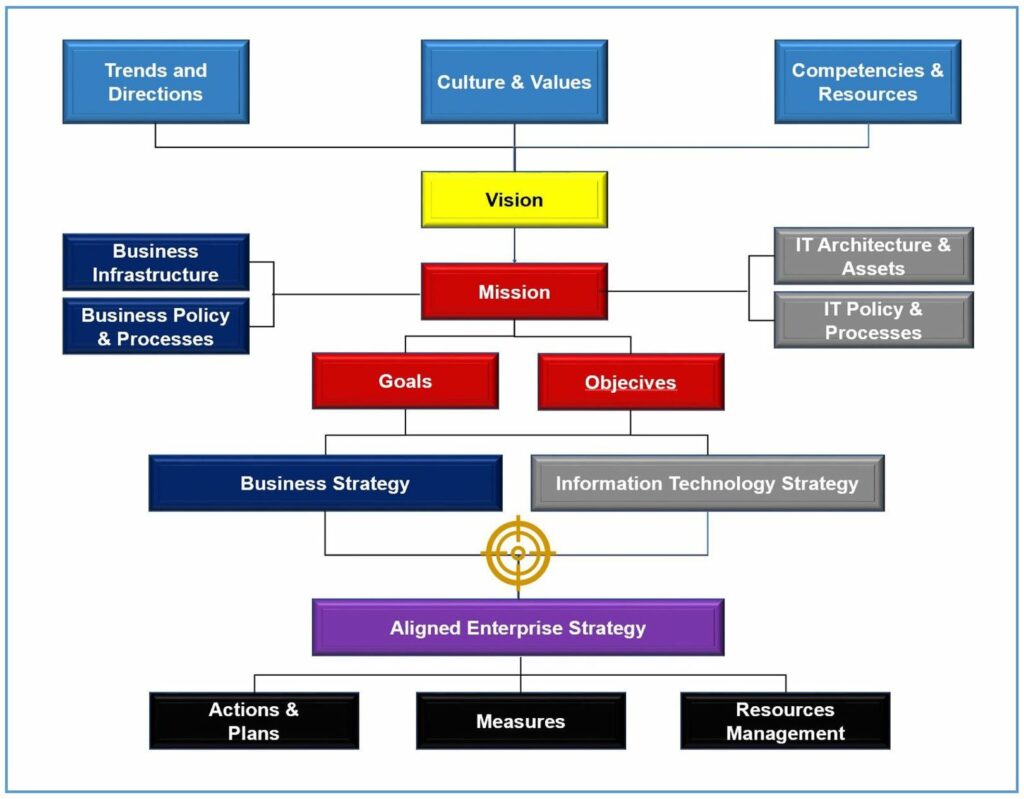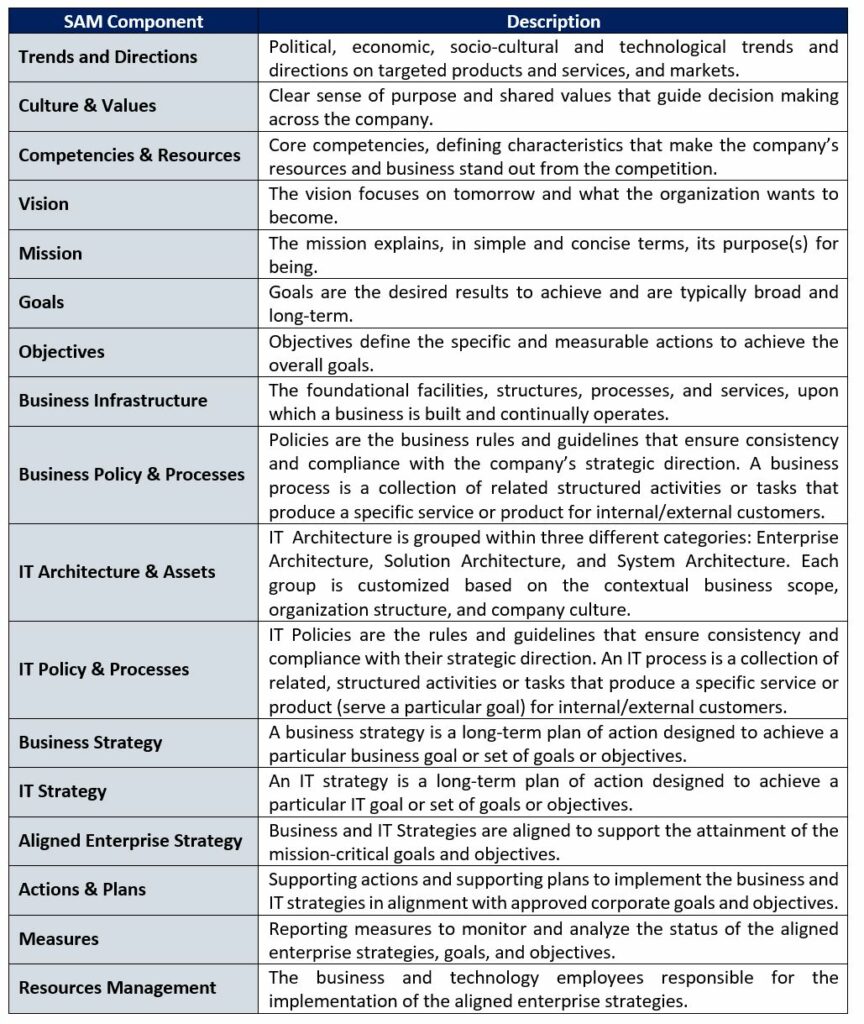 Standard management science literature suggests that SAM is focused primarily on strategy; however, the following is a more practical definition:
Strategic Business-IT Alignment harmonizes business vision, mission, goals, objectives, and capability (strategy, process, organization, and infrastructure) with IT vision, mission, goals, objectives, and infrastructure – strategy, process, and resources.
The keystones that support the successful alignment of business and IT strategy within the SAM include:
Vibrant and inclusive company culture. There must not only be informational unity but a company as a whole with empowered employees.

A proactive leadership team that is continually motivating and supporting employees to achieve enterprise alignment. This condition creates the holistic amalgamation of both entities to achieve a common goal.

The corporate business model empowers value creation by the business units.

IT does not create value, as it provides the tools for value creation by the business units.

Business and IT executives fully understand and are committed to strategic alignment.

Business executives are technology literate and value the role of current and emerging technologies for short and long-term success.

IT executives are knowledgeable about the key components and underpinnings of business strategies and plans.

All business and IT executives recognize the enterprise's strategic business priorities and their translation into responsive technology solutions.

Customers easily recognize the real value of the company's products and services.

Revenue and profitability validate successful value creation.
"Information technology is at the core of how you do your business and how your business model itself evolves.

"
IT Strategic Plan and IT Architecture
IT Strategic Plan
The IT Strategic Plan defines the strategy an organization implements to enable its technology infrastructure and portfolio to operate and function in tandem with its business objectives. A formal IT plan ensures the enterprise technology infrastructure provides the productive and optimum output and services that directly support its mission, strategies, and goals.
IT Strategic Architecture
IT Strategy supports the creation and continual updating of the company's Information Technology (IT) Architecture. IT strategy supports the design, development, and implementation of a competent, efficient, flexible, and high-quality technology solutions suite to handle core processing and solve a business problem or exploit new opportunities. The IT Architecture is grouped into three categories, as shown below.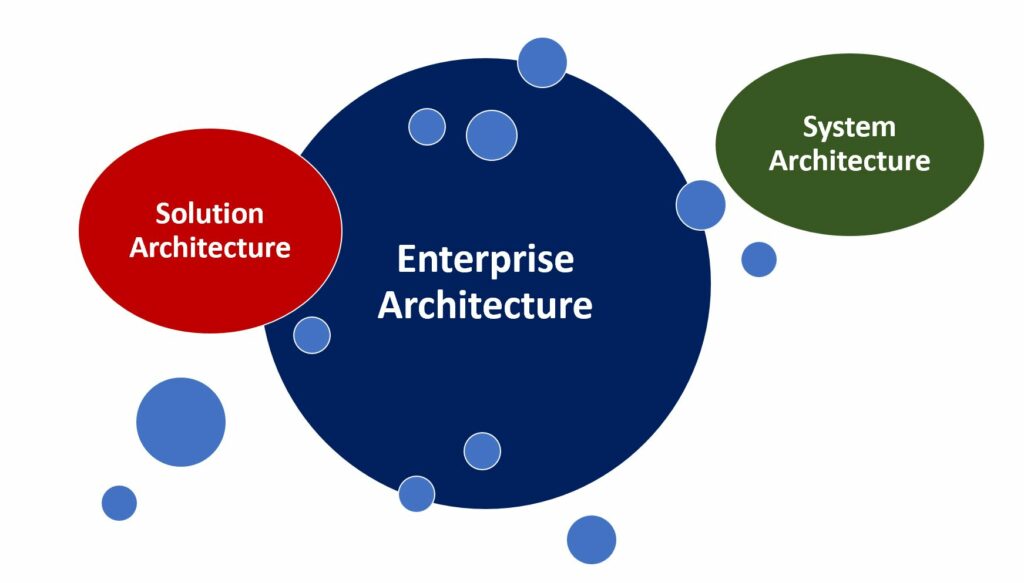 Enterprise Architecture
The Enterprise Architecture generates a technology strategy that supports the company's business strategy. This architecture type drives consolidation, reuse, and economy of scale by supporting business-wide strategic focus across all business unit technology initiatives.
Solution Architecture
The Solution Architecture creates a business solution framework at the division and department level supporting business processes and reusable services and resources for the business units. The structure spans all organizational business units and technology architectures.
System Architecture
The System Architecture defines the information systems, at the team level, in terms of the sub-system components and their relationships with all internal and external systems and data sources. System architecture covers the particular Team's applications, data, and technology, typically referred to as the Software Architecture.
The SAM Misalignment Gap
SAM misalignment is the inability of the company to align the business and technology activities effectively successfully. This condition results from the joint breakdown of business and IT executives' oversight and decision-making in effectively 'bridging the Business-IT Strategic gap.' Mitigation of misalignment conditions includes gaining an understanding and appreciation of the variances in objectives and goals, culture, incentives, and familiarity with both the business and IT groups' body of practice knowledge.'
 The misalignment gap is the degree to which corporate IT initiatives diverge from business strategies. In simple terms, alignment aims to reduce the 'gap' and eliminate it over time. Misalignment of a company's business and IT unit strategies are typically a result of common issues, including:
Business and IT employees are not continually engaged in necessary and meaningful cross-domain communications and decision-making.

Business and IT employees lacking a genuine commitment to ensuring strategic alignment success. 

IT executives not included as full participants in the enterprise strategic planning process.

Business and IT executives are hesitant to abandon legacy-type IT to obtain new innovative solutions because of the perceived costs and change management challenges.

The established SAM program gradually becomes disengaged and misaligned as company needs and priorities change, resulting from internal and external requirements, executive disputes, emerging technologies, and regulatory changes.
"If everybody is doing it one way, there's a good chance you can find your niche by going exactly in the opposite direction."
SAM Maturity Model
The SAM Maturity Model assesses the level of enterprise systems' successful strategic alignment in their business and technology strategies.
An organization's strategic alignment maturity level typically is influenced by unique sets of business environment variables based on internal and external factors. The below graphic is a representation of the progression levels of a SAM Maturity Model.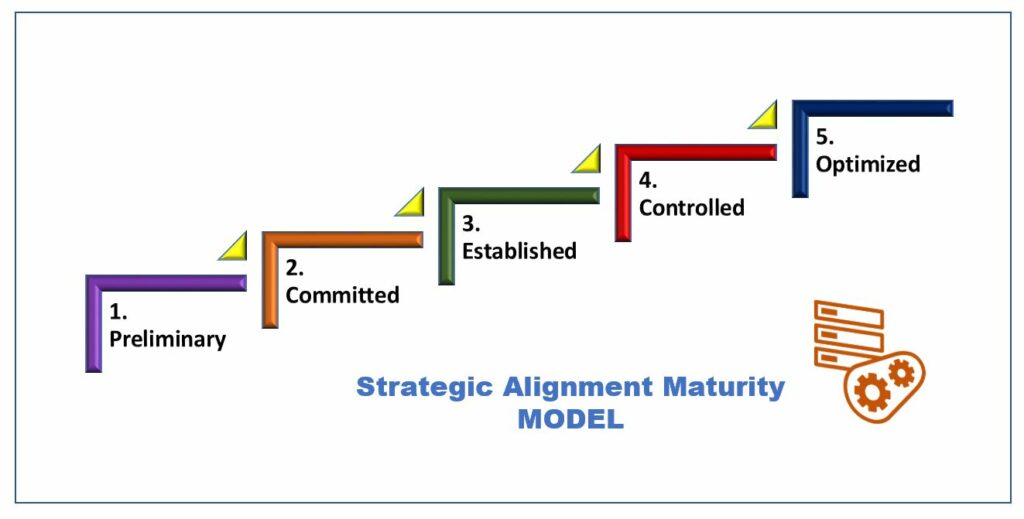 The foremost influencers of the SAM Maturity Model encompass:

"The most important thing in communication is to hear what isn't being said."
The Way Forward
At Knowledge Compass, we bring together nearly four decades of thought leadership in business and technology strategy, the latest tools and best practices, and a seasoned consultant team with the competencies and talent to help our clients improve productivity and profitability.
Knowledge Compass explores and develops valuable new insights from business, technology, and science by embracing the powerful technology of ideas and brainstorming. Our consultants engage customers in challenging discussion and experimentation to expand business science boundaries and practice and translate creative ideas into practical solutions from within and beyond business.
Working with Knowledge Compass means a collaborative approach to understanding your current business model, strategies, and critical business requirements and goals.
We enable organizations to transform and deliver improved value by ensuring employees adapt and make the most effective use of crisis management and change practices in culture, strategy, infrastructure, processing, and digital transformation. Our consultants have a deep understanding of the social and business factors that support a people-based culture aligned with the appropriate corporate strategy and goals. 
Knowledge Compass provides consulting services using time-tested best practice frameworks, analyses tools, and interactions from their professional Consultant Toolbox.
Creating Answers Together: Challenge Us!