Introduction
Today, it is not shocking that underperforming managers are reported to make up about half of the corporate management universe. There's no question about it that some workplaces are impacting significantly with ineffective managers. In these unsettled backdrops, value creation is interrupted or eroded continuously, and businesses are at risk of inadequate or absence of quick decision-making. Within this context, many top corporate brands and SMB companies are placing a renewed focus on management promotion, training, and support programs.
After consistently demonstrating a pleasing personality, invaluable knowledge, and practical skills over time, employees typically are considered for advancement to a position with management responsibilities. However, many of these individuals are not yet ready for a management position, and their development may be better suited to a professional versus management career path and role. In contrast, high-performance employees with observable behaviors that support future manager success may find themselves ignored. 
Now, here's a truly frightening number Gallup has uncovered:
Why do many companies continually make mistaken selections in identifying and selecting employees for first-time management positions? Research supports that the selection process may be somewhat flawed by:
Reliance on the candidate's previous non-managerial success with the misguided belief that employees that exhibit mastery in their discipline will quickly translate into a successful manger.

A policy that tenured employees receive priority before the most deserving. 

Familiarity among employees and managers influences decisions as personal relationships are the reality of the workplace!

No consideration for a candidate's natural talent for leadership, collaboration, and working well with other employees, customers, and partners, as demonstrated in workplace situations

.
It appears that many businesses select new manager candidates chiefly on current roles, skills, and merit. This condition supports a lack of proper reflection of the inherent behaviors and the leadership abilities necessary for an effective manager.
Great Managers Talents Dimensions
Gallup defines "talent" as the natural capacity for excellence. Employees can learn competencies and skills, create knowledge, and acquire experience, but they cannot obtain talent — it is innate and is the building blocks of high performance.
Gallup identifies the five primary 'talents' evident in 'great mangers'; they:
Motivate employees to take action and engage employees with a compelling mission and vision.
Make Decisions based on productivity, not politics.
Have the Assertiveness to drive outcomes and the ability to overcome adversity and resistance.
Build Relationships that create trust, open dialogue, and full transparency.
Create a culture of clear Accountability.
Talent is the utmost forecaster of long-term management achievement and is not discernable on a resume.
The Selection Process Model
In a way, manager selection is akin to a major league sports player draft. Business institutions, as well as teams, need to continually identify and select high-value resources to augment their core cadre, ensuring future success. The criterion for a winning sports draft is deep and robust research and evaluation of potential candidates.
The corporate world is no different and requires the same deep-rooted level of investigation and assessment. Even with a costly pre-draft effort, many NFL or MLB first-round choices fail to make the grade and are cut, thereby experience short careers. This proceeding is indeed a fundamental lesson for business executives to understand that 'wins and losses' will be the outcome of the selection process. In the end, a higher rate of 'wins' will result from a selection process devoid of bias, unfairness, and without the introduction of personal agendas.
An effective selection process follows a rigorous yet flexible approach as the business is much more assured of achieving results that more than justify the effort involved. The use of predictive analytics and other personality assessment techniques and tools improve the probability for identifying candidates with the appropriate talent and likelihood for maturity to high performers.
Selection involves a formalized structure from identification to selection as outlined in the below graphic.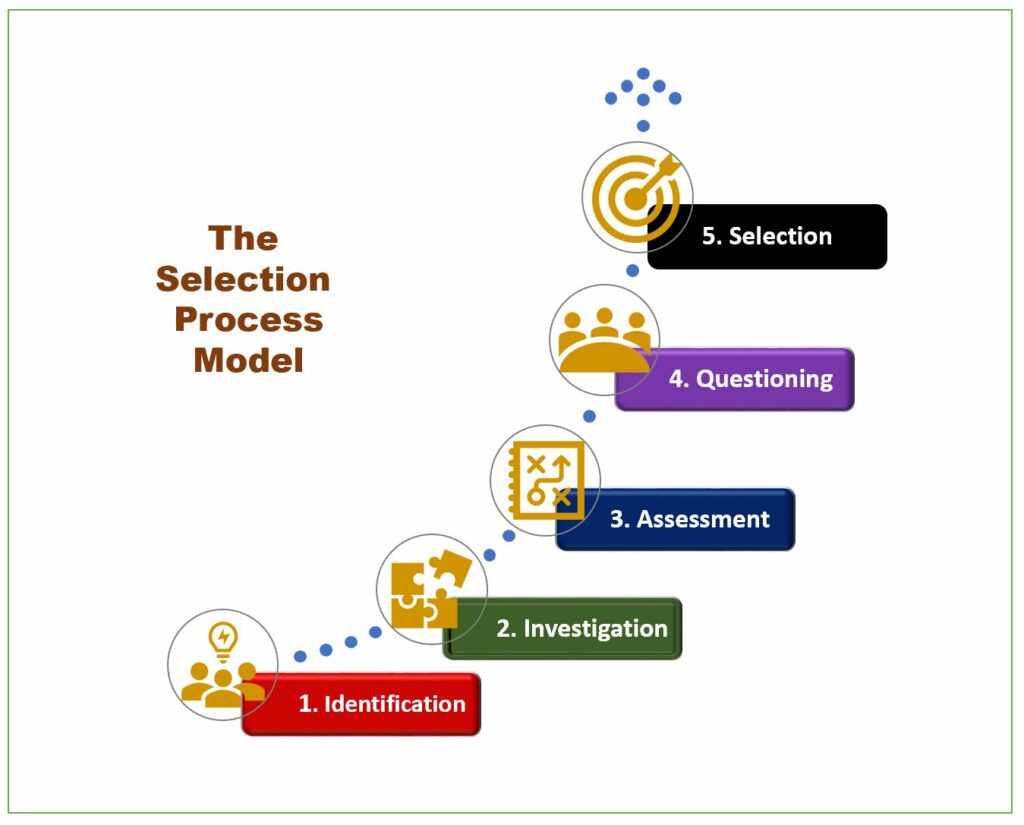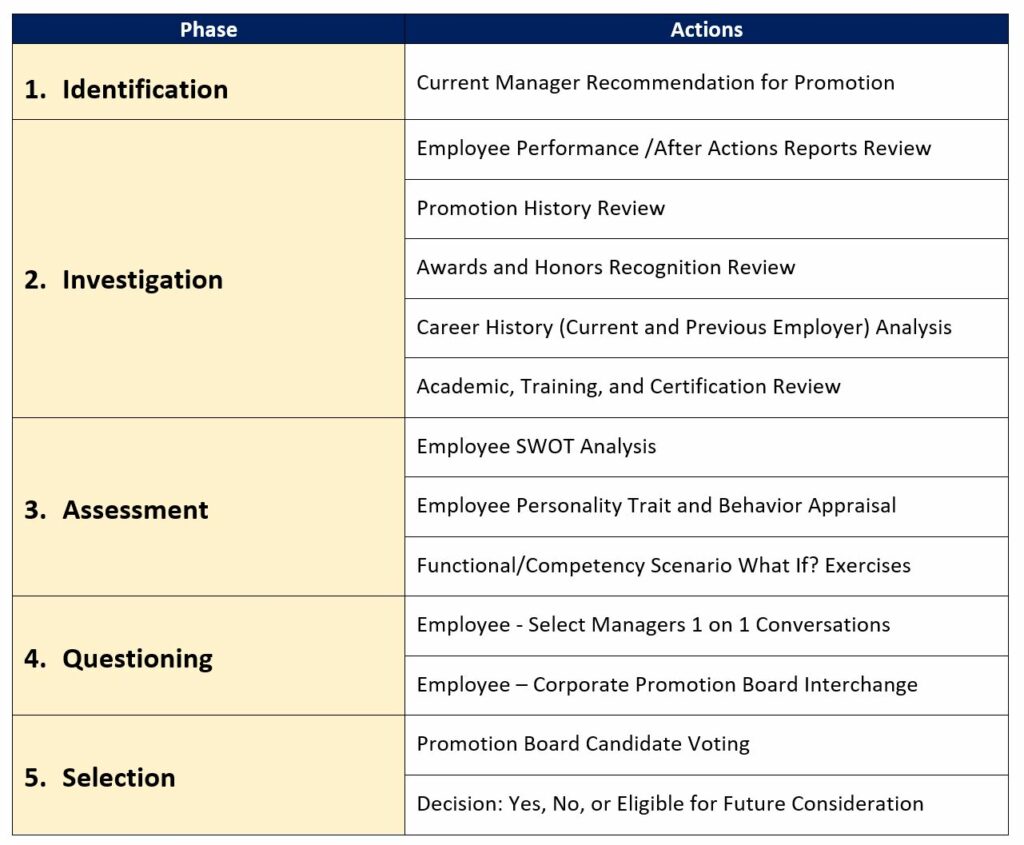 "The good news is that sufficient management talent exists in every company – it's often hiding in plain sight. Leaders should maximize this potential by choosing the right person for the next management role using predictive analytics to guide their identification of talent."
Ineffective Managers Behavior Manifestation
Ineffective managers typically have personality traits that result in negative behaviors that impact morale, engagement, and impede forward momentum in the workplace, as presented in the below table.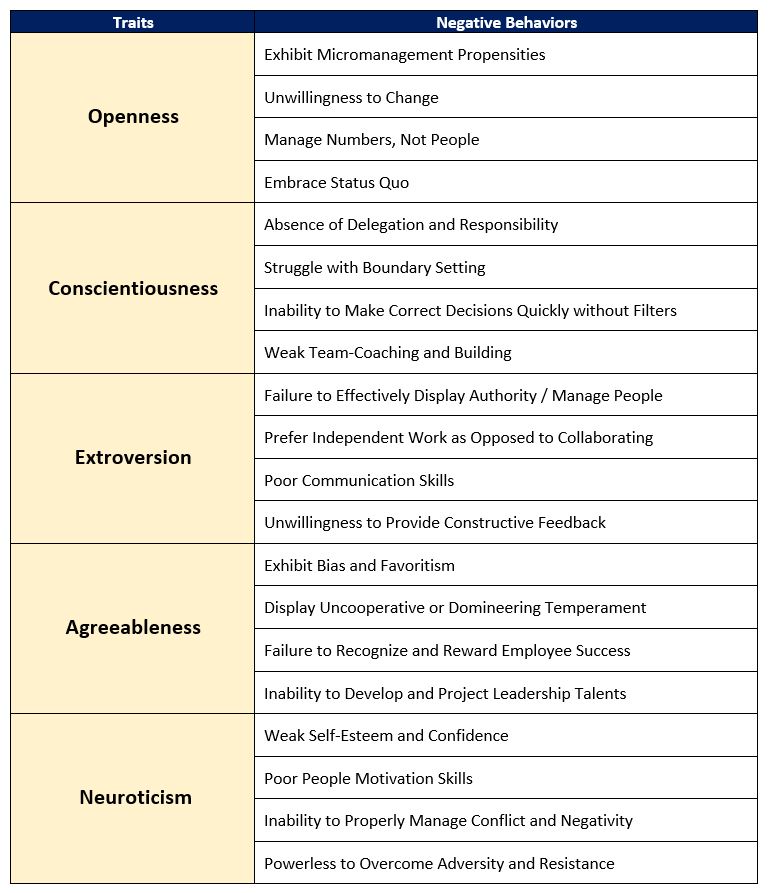 "Coming together is a beginning. Keeping together is progress. Working together is success."
The Consequences of Poor Management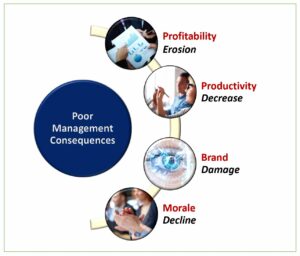 First-time managers must be able to interact successfully, motivate, and direct employees with dissimilar beliefs, qualities, and skills/abilities. These position obligations are a challenge for many newly promoted managers, given their naivety for directing and mentoring other employees. As a consequence, inadequate or weak management execution is the basis for substandard business performance and sustainability impacts.
The strategic outcomes of the failure of first-time managers directly influence the company's financials, productivity, brand, and morale, as outlined below.
Profitability Erosion
First-time managers' decision-making at most strategic and many tactical decision-points significantly influence the achievement of the corporate financial plan. Lack of understanding and appreciation for the holistic enterprise and the strategic alignment model places most new managers at a disadvantage at the start of their management career. Profit erosion occurs not only because of decreased sales but of increased expenses or a combination of increased costs and reduced sales. In this context, it is is a problem for new managers to master decision-making immediately upon promotion.
Productivity Decrease 
First-time managers must continually demonstrate the skills to make appropriate decisions quickly and direct and empower employees to successfully manage workplace productivity performance goals. Productivity realization usually is a challenging goal for the individual employee because of the enduring nature of the commitment. In contrast, the new manager predictably experiences many different complications in stimulating and guiding a group of employees to focus on time management, collaboration, and quality competencies.
Brand Damage
First-time managers' can influence the company's brand with their performance at crucial customer and stakeholder touchpoints. A brand is a claim of distinction backed by evidence of business achievement. Reputation is the outcome of what a brand is recognized based on customers' experiences. Managers who demonstrate poor management skills to customers and others will undoubtedly result in damage to the reputation with a flow back to the corporate brand.
Moral Decline 
First-time managers' 'trials and tribulations' directly impact the morale of the employees under their watch and the ability to maintain or enhance team chemistry. Low or depressed morale triggers a decrease in productivity and an increase in atypical behaviors. Resignations can also add to a workplace in turmoil as the negativity of departing employees can influence the remaining workers. Also, a replacement has a high cost with an estimate of 30% of the current worker's annual salary to recruit a suitable replacement.
"Bad managers drive
talented employees away and ultimately damage customer
relationships. Talented managers, on the other hand, attract
and engage talented employees. They have a natural gift for
developing employees' strengths and getting the most out of
each person."
First-Time Manager Transition

 
Transition begins with "letting go" of the conventional and comfortable ways of doing something and changing direction or moving on. Many employees find the transition to a manager role to be one of the most stressful and challenging events of their career. The change from managing oneself to managing fellow employees requires a significant shift in perspective and comportments.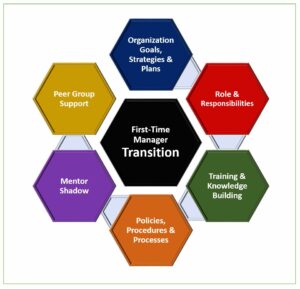 A first-time manager transition is the critical bookend to the selection process and requires establishment as a corporate program. A successful transition program includes a set of structured events, touchpoints, and information sources available to the new managers within a dateline and sequence and ad hoc access and use.
Training and Knowledge-Building
When employees are promoted devoid of adequate training and support, the aftereffects are damaging to the business, employees, and the newly-promoted managers. In many SMB companies, formal manager training is considered unaffordability as well as sending aspiring employees to external professional training. Disappointingly, many companies, with finite resources, view product development, marketing, sales, and customer service initiatives as the top investment priorities, at the expense of training.
There is sufficient empirical data in the business community to support the premise of a significant return on investment (ROI) on training program budget allocation. The best practices approach is the set-up and support for an internal program that provides opportunities for continual employee education and growth via formal training and knowledge-building. The scope of the training activity should cover the first-time manager as well as the various management growth levels in a manager's progression within the organization.
The range of a value-add manager training and knowledge-building encompass.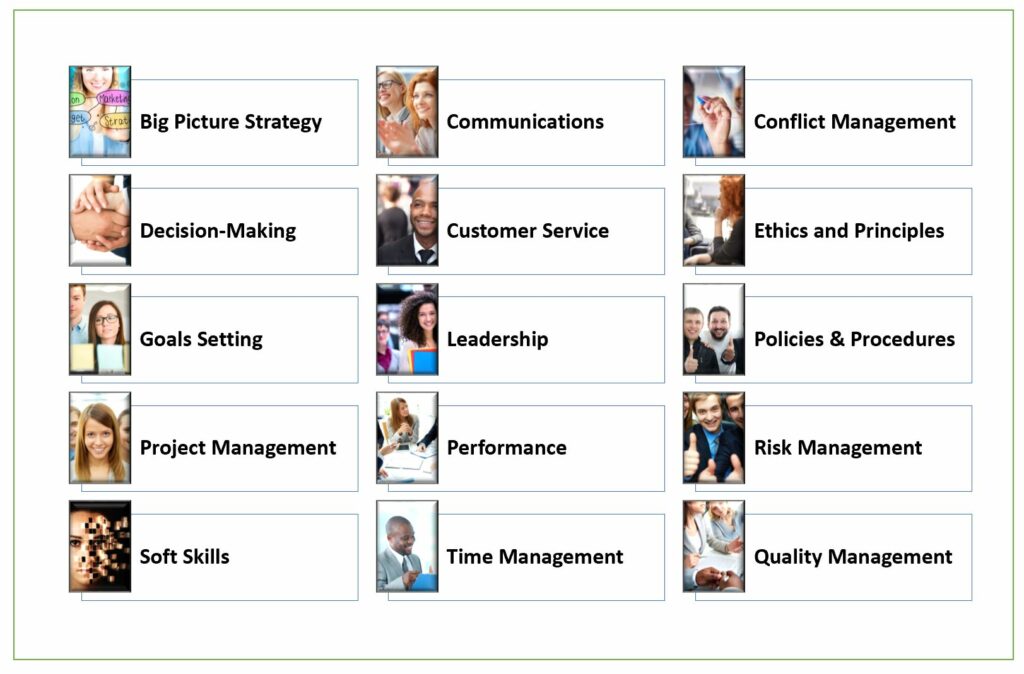 Adult Learning Experience: Characteristics 
Learner characteristics comprise the preferences that affect the manner people deal with learning. These behaviors reflect and blend internal cognitive processes and external social environments. Generally, adult learning defined within the Andragogy concept is personified by its self-directed and vitally reflective character, as established in everyday experiences.
"Andragogy" consists of the methods and techniques used to differentiate the practice of educating adults from "pedagogy," the practice of teaching children. The andragogy term was propagated by

Malcolm Shepherd Knowles,

American educator, in the mid-to-late 20th century.
Since adults have different learning needs than younger persons, it is critical to meet the unique needs of adult learners to ensure a successful program. By using combinations of policies, techniques, and tools, corporate training executives can create training experiences that provide the best-case learning activities for participants. There are no standard adult learners' attributes that apply to all, and there are many categories of adult learners and manners in which they learn. The recognized adult learner characteristics cover:
Focused and results-oriented.

Depend less upon instructors, and peers for guidance in their coursework.

Test new learnings against their existing stock of knowledge, experience, and expertise.

Favor problem-solving. 

Pursue training that applies directly to needs.

Absorb and make sense of new learnings. 
Adult Learning Experience: Styles
There are three primary learning styles: seeing, hearing, and doing. Individuals are most effective when tutored in their preferred learning style. While most adults can learn using any one of these styles, most people have a preference of one or a combination of the learning types outlined below.
Auditory Learners 
Auditory learners are those who generally learn most effectively by listening. They typically favor learning through discussions, lectures, and reading aloud. They remember best through hearing or saying things audibly.
Visual Learners
Visual learners are individuals who generally cogitate in pictures. They prefer to view things penned or illustrated in physical and digital objects and documents. They remember things best by seeing the item.
Kinesthetic Learners
Kinesthetic learners are those who learn best through touching, feeling, and experiencing that which they are trying to learn. They learn best by writing or physically manipulating the focused objects.
A practical exercise with adult learners is to have them identify how they learn best. It allows the instructor to adjust the training if necessary, to best meet the learner's needs and ensure a successful learning experience.
 "For training to be effective, it also has to maintain a reliable, consistent presence. Employees should be able to count on something systematic and scheduled, not a rescue effort summoned to solve the problem of the moment. In other words, training should be a process, not an event."
Adult Learning Experience: Training Programs
Experience supports that a successful manager training programs consist of a blend of internal and external training and knowledge-building activities encompass:
Case Studies: Problem/Opportunity Based Learning

Classroom – Instructor-led Training Courses

Coaching/Mentoring

e-Learning; Any Time and Any Where Web Training Apps

Educational Games (On-line and Team-Building Sessions)

Group Training Circles

Industry and Functional Lectures

On-the-Job-Training Activities

Role-Playing Sessions

Simulation Employee Training

Training Courses (External Professional Training)
Adult learning theories of andragogy, experiential learning, and self-directed learning support key principles for adult learners, as outlined below
Create curriculum and interactions on real-world, realistic workplace situations that learners are acquainted with and will encounter in their management role.

Help learners use the new learnings immediately, whether it is in the context of a practical case study, simulation, or a workplace-related problem to solve.

Include facilities for frequent cogitating, including self, group, and peer assessment.

Design capabilities for learners to control the pace of their learning, such as the ability to pause, repeat, or control the order of material, or access learning material anytime, anywhere.
U.S. Bureau of Labor Statistics reports:

'Employers with fewer than 100 employees provided only 0.8 hours or 12 minutes of manager training per six-month period. Organizations with 100-500 employees provided only 0.9 hours or 6 minutes of training for the same time span."
The Way Forward
At Knowledge Compass we bring together nearly four decades of thought leadership in business and technology strategy, the latest tools and best practices, and a seasoned consultant team with the competencies and talent to help our clients improve productivity and profitability of all enterprise business and support activities.
Knowledge Compass explores and develops valuable new insights from business, technology, and science by embracing the powerful technology of ideas and brainstorming. Our consultants engage customers in challenging discussion and experimentation to expand the boundaries of business science and practice and translate creative ideas into practical solutions from within and beyond business.
Working with Knowledge Compass means a collaborative approach to understanding your current business model, strategies, and key business requirements and goals.
Knowledge Compass provides consulting services with the use of an array of Frameworks, Analyses Tools, and Interactions from their Best Practices Consultant Toolbox.
Creating Answers Together: Challenge Us!