Introduction 
Market research supports that less than 5% of prospective buyers truly trust salespersons. The opportunity to meaningfully improve this indicator is limited if the sales team delivers an undistinguished marketing pitch that lacks focus on real business and technology problems and opportunities. The answer to this dilemma, for many best-in-class companies, is the employment of a structured solution selling strategy, methodology, and systems. By offering a response to a problem or issue, as opposed to promoting products and services, prospects will be more inclined to believe in the seller's value proposition.
The solution selling approach has its roots in the mid-1980s business community, continually enriched by industry thought leaders over the years, and given rise to many of today's sales best practices. For example, solution selling often is referenced in approaches such as SPIN Selling, Sandler Selling, Strategic Selling, RAIN Selling, Baseline Selling, and Customer Centric Selling methodologies.
Successful companies typically don't stop at selecting and deploying a sales strategy and supporting methodology. They develop business intelligence solutions that continually track and analyze salesperson behaviors. Rather than guessing at whether an approach or methodology is effective and efficient, such a system allows the organization to identify flaws and failings and quickly adjust and redirect to ensure overall success.
"The definition of success is that the company doesn't miss a beat. Do I love what I do? Oh yeah – I love it more than ever. You've got to have that energy level 24/7. But you've also got to make sure the transition is smooth. Being realistic, most high-tech companies haven't done that well."
Solution Selling: Definition
Solution selling is a sales method that focuses on prospect business and technology 'pain points' that addresses the underlying problems with appropriate products and services. Problem resolution is what constitutes a "solution" and employed in sales circumstances where products and services are just one of the many elements that lead to the design and use of a solution.
Six Phase Solution Selling Methodology
Solution Selling is a methodology comprised of repeatable steps that the sales team takes with a prospect to move from an early stage to a win. The solution sales selling methodology encompasses six phases, as outlined below:
Target and Qualify.
Explore and Assess.
Access and Develop Solution.
Present Solution and Follow-up.
Negotiate and Close.
Implement, Follow Through, Assess Results, and Expand.
Solution Selling Buyer Needs
Various analysis tools support the Solution Selling Methodology during the pre-sales process. Buyer Needs is an essential tool and a key point of understanding, between the seller and prospective buyer, typically identified at the start of the pre-sales process as the seller proactively drives the prospect to the 'Active Evaluation' stage.
The four-stage evolutionary buyer needs approach follows in the below graphic.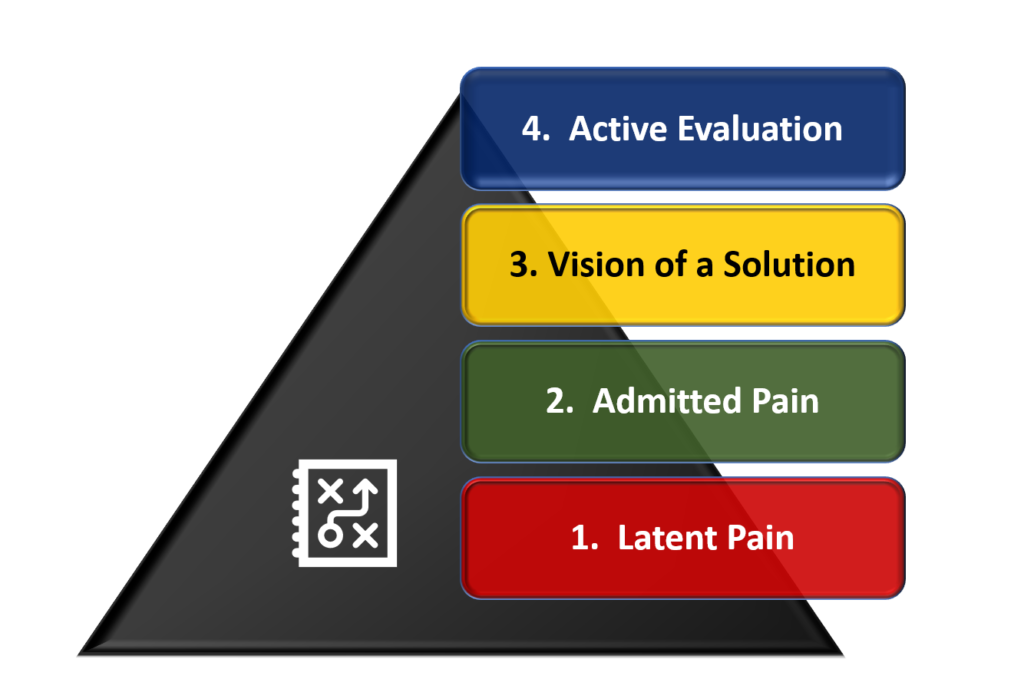 Solution Selling: Benefits
The essential benefits realized by the sales team for successfully deploying the Solution Selling strategy, methodology, and supporting systems include:
Align effectively with prospect stakeholders at every pre-sales stage of the purchase decision-making process.
Co-create high-value repeatable solutions.
Decrease Customer Acquisition Costs (CAC).
Engage transparently with prospects throughout the pre-sales process.
Improve sales team productivity.
Provide higher and differentiating value from the pre-sales process and supporting activities.
Understand and appreciate the prospect's business and technology problems, and potential opportunities faced and provide valuable insights for mitigation and resolution.